Discover ransomware statistics in the healthcare sector, why these attacks target the industry, and security tips.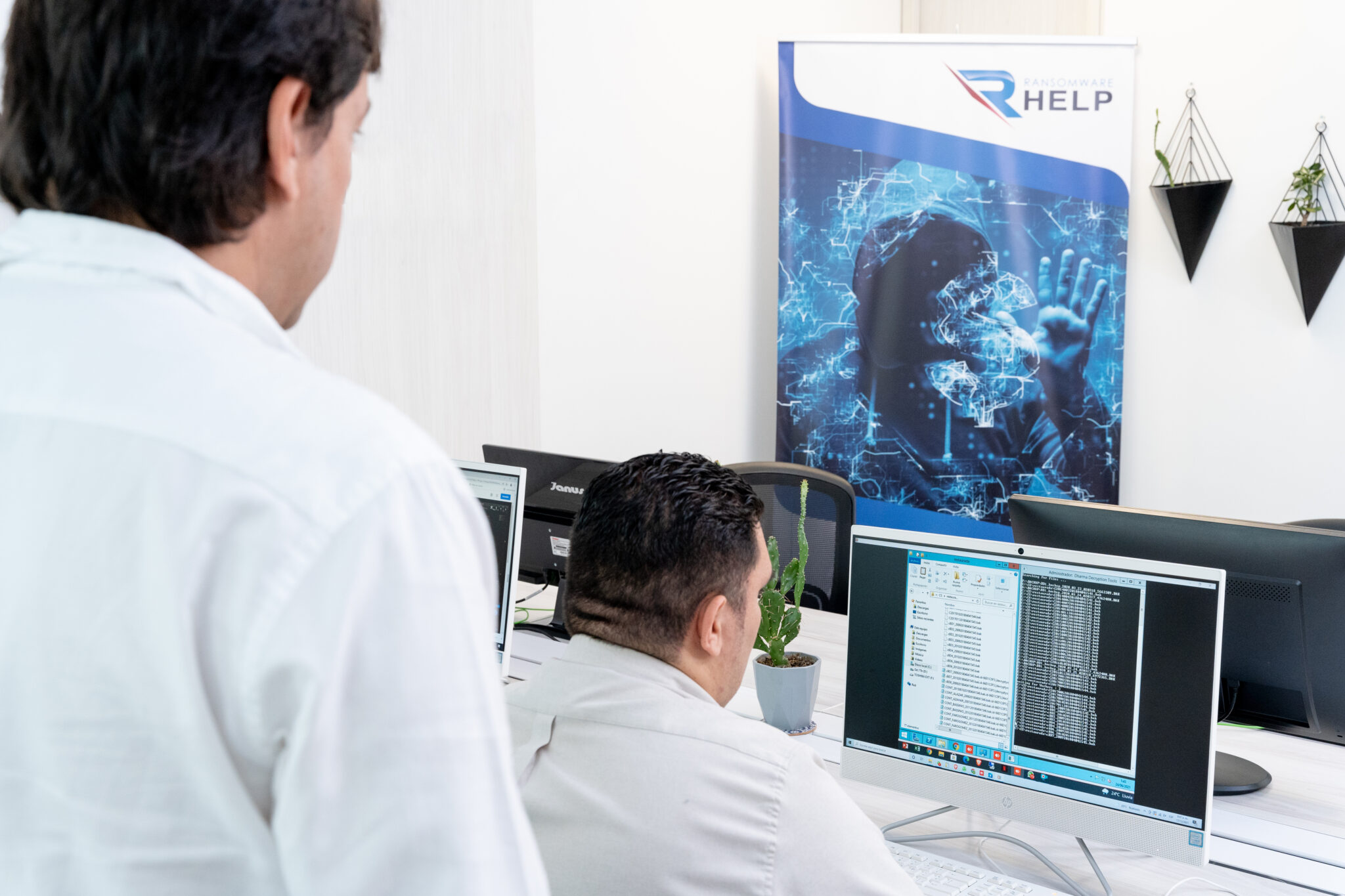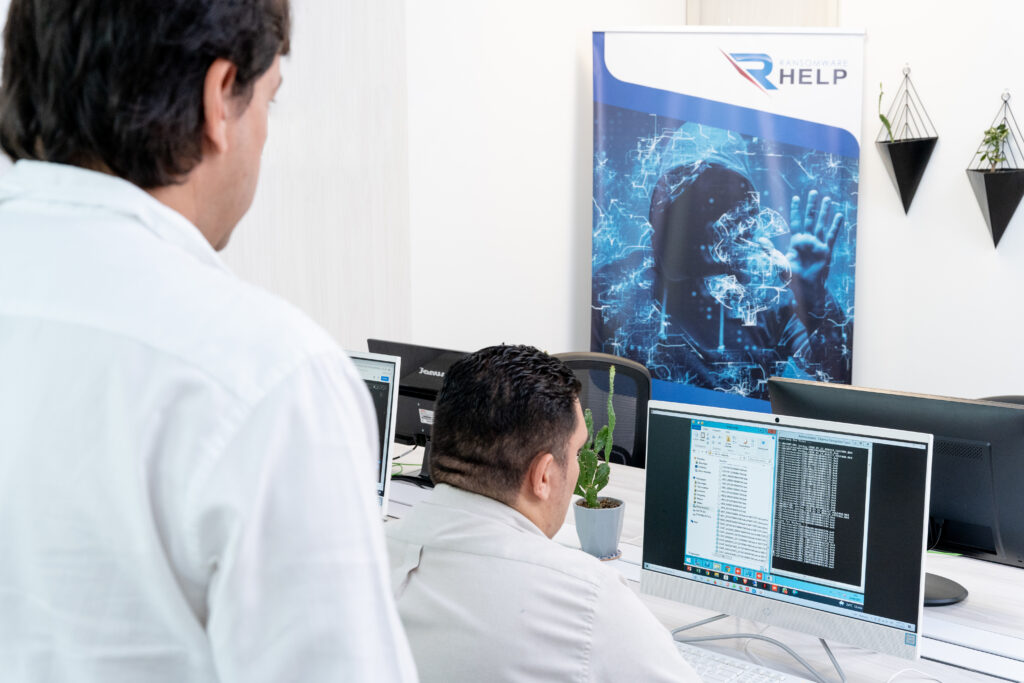 Not sure what kind of ransomware has encrypted your data?
HelpRansomware identifies, removes and recovers your data from any type of ransomware
What are the most common cyberattacks in the healthcare industry?
Computer attacks are a significant problem in the healthcare industry.
Two major types of cyberattacks are affecting the healthcare sector:
Ransomware: hackers enter a company's network and encrypt its files, then demand money in exchange for the decryption key to unlock them;
Malware: hackers infiltrate a company's network or device and infect it with malicious software or code to gain control, steal data, or destroy it.
Both can cause considerable financial and data losses to businesses.
What is the most severe threat to the security of healthcare data?
The most serious threat to medical data security is when hackers gain access to it.
They may misuse the data, create errors, or spread excessive information.
Piracy, malware infections, and human errors are all behaviors that can compromise healthcare data.
According to Statista, identity theft is the most common cybercrime in healthcare.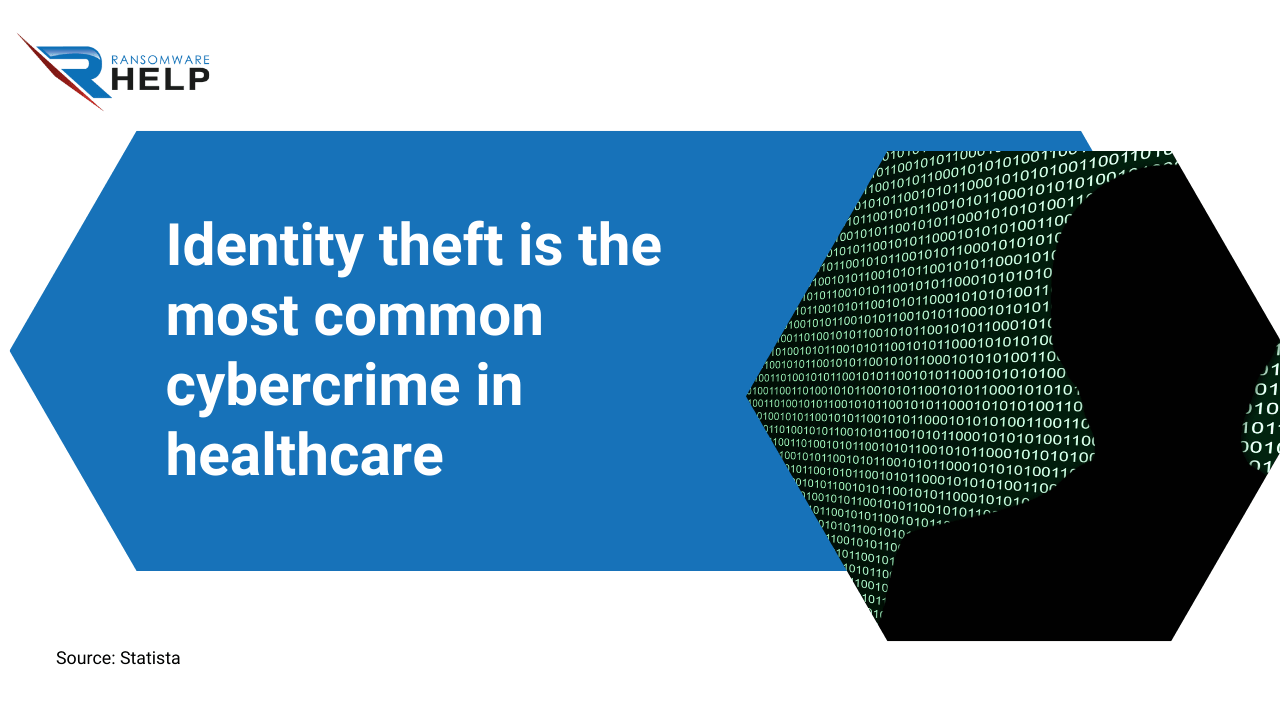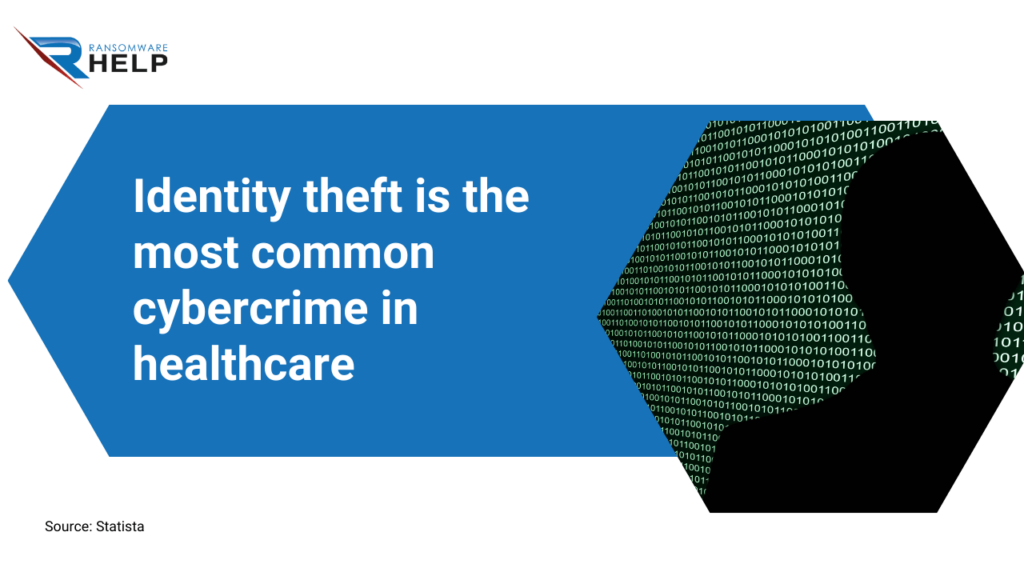 Why are ransomware attacks targeting the health industry?
Ransomware attacks aim at causing economic damage.
Healthcare companies store precious data.
Criminals exploit their vulnerability by spreading malware, forcing hospitals and medical centers to pay a ransom to recover encrypted files.
Most businesses cannot afford the ransom, and insurance providers refuse coverage for such payments because they are not deemed 'urgent.'
Why are hospitals the perfect targets for ransomware that affects the medical sector?
Hospitals are ransomware attacks targets for two main reasons.
First and foremost, the health industry is one of the most profitable in the world.
The second reason is that most hospitals' medical equipment and services still need to be digitized, making them vulnerable to cybercrime.
Why are hackers targeting the healthcare sector?
These cyberattacks can result in significant financial and personal data loss for the hospitals and centers targeted.
The health industry is a target of the most damaging cyberattacks because they store patient personal information that hackers use for identity theft.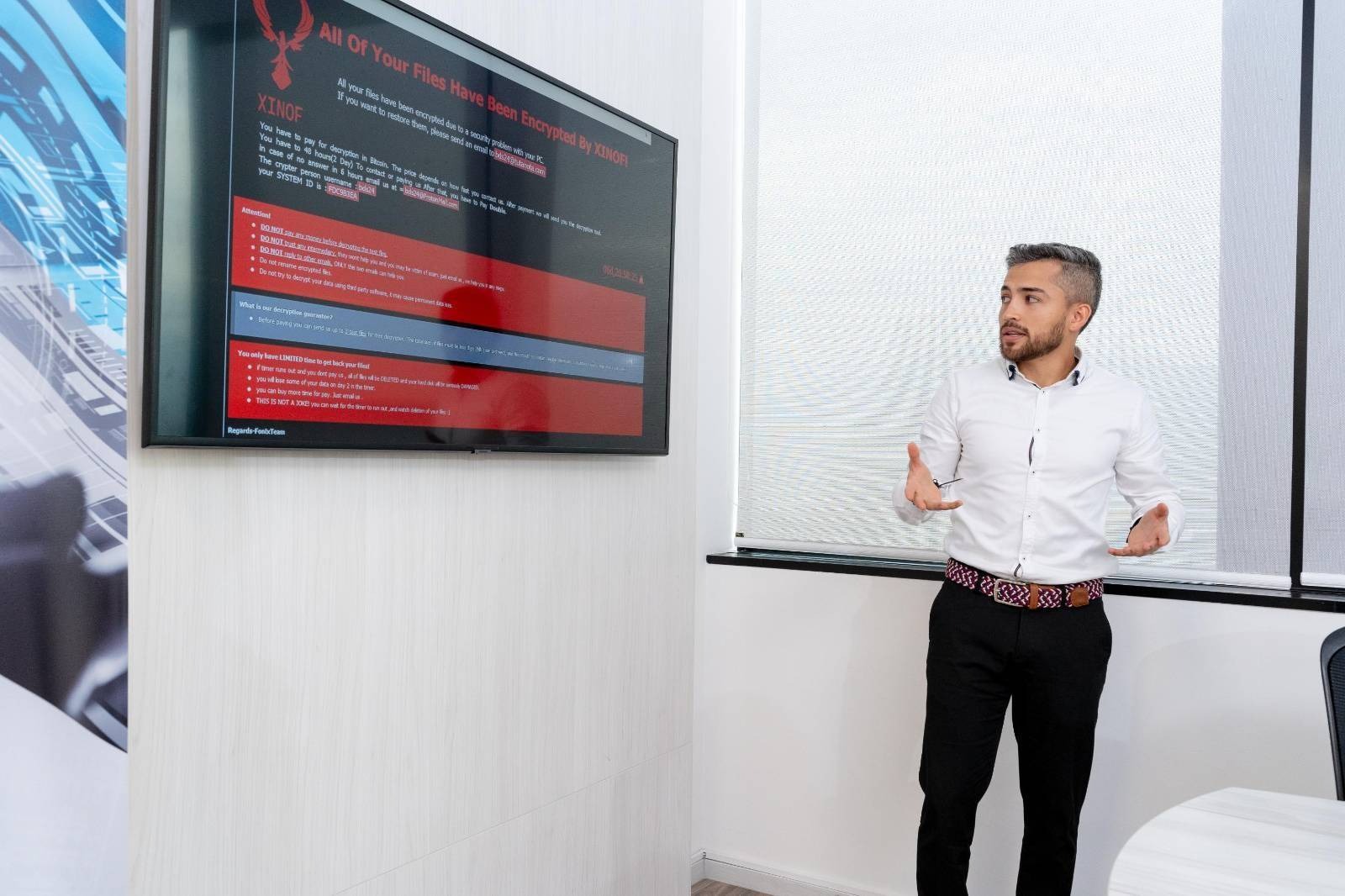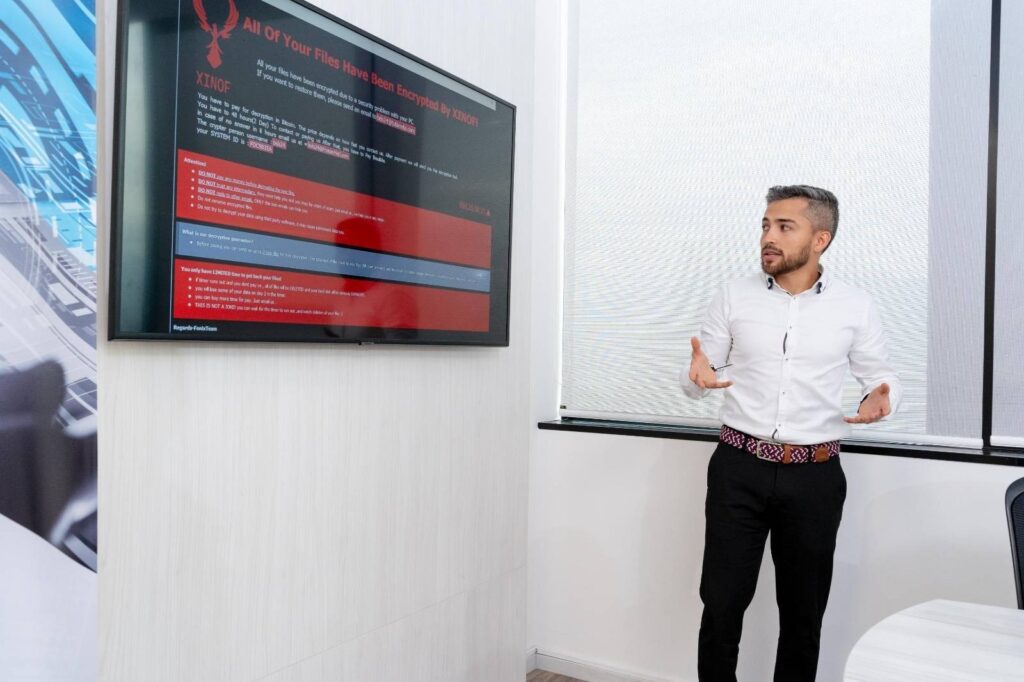 Do you want to remove ransomware quickly and safely?
HelpRansomware has helped thousands of businesses and administrations recover from a ransomware attack
What makes the medical industry so vulnerable to cyberattacks?
One of the primary reasons is that many hospitals and physicians continue to use outdated software and devices.
That makes them an easy target for hackers.
Another reason is that the healthcare sector has a lot of confidential patient data that attackers might use to blackmail or extort money from companies or individuals.
How does ransomware affect hospitals?
One method is using ransomware as an extortion tool.
Hospital networks or systems are breached by hackers who ask for payment to access encrypted data or information.
An example of ransomware extortion in the medical sector was perpetrated against Vastaamo, Finland's largest network of private mental health providers.
According to the Helsinki Times, the attack affected the entire country, with 25,000 patients confirming extortion emails.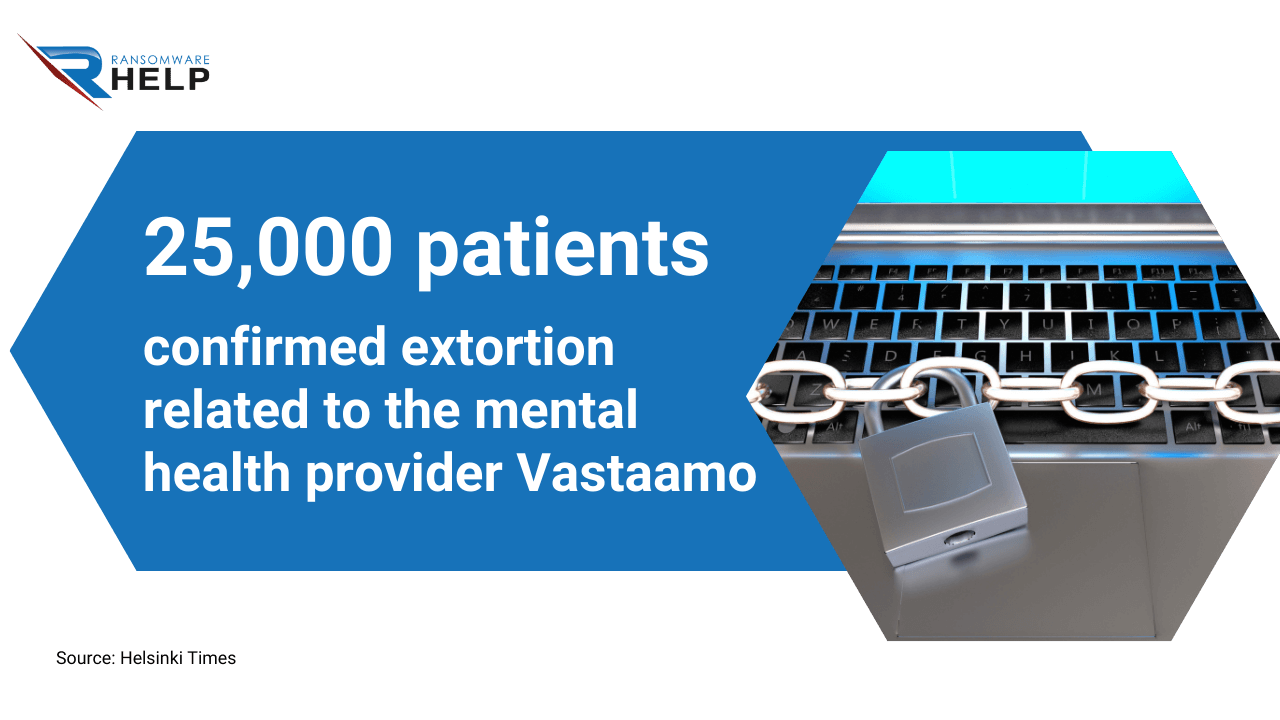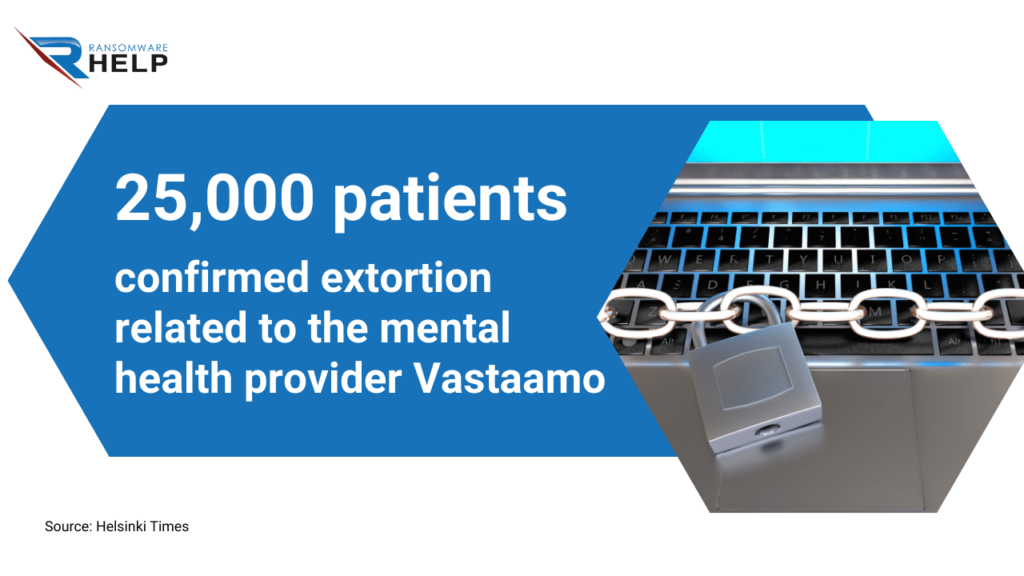 Ransomware can also affect hospitals by encrypting files on their computers, making them unusable until the ransom is paid.
Ransomware statistics in the healthcare sector
In this section, you will read more about the statistics on computer attacks in the medical field: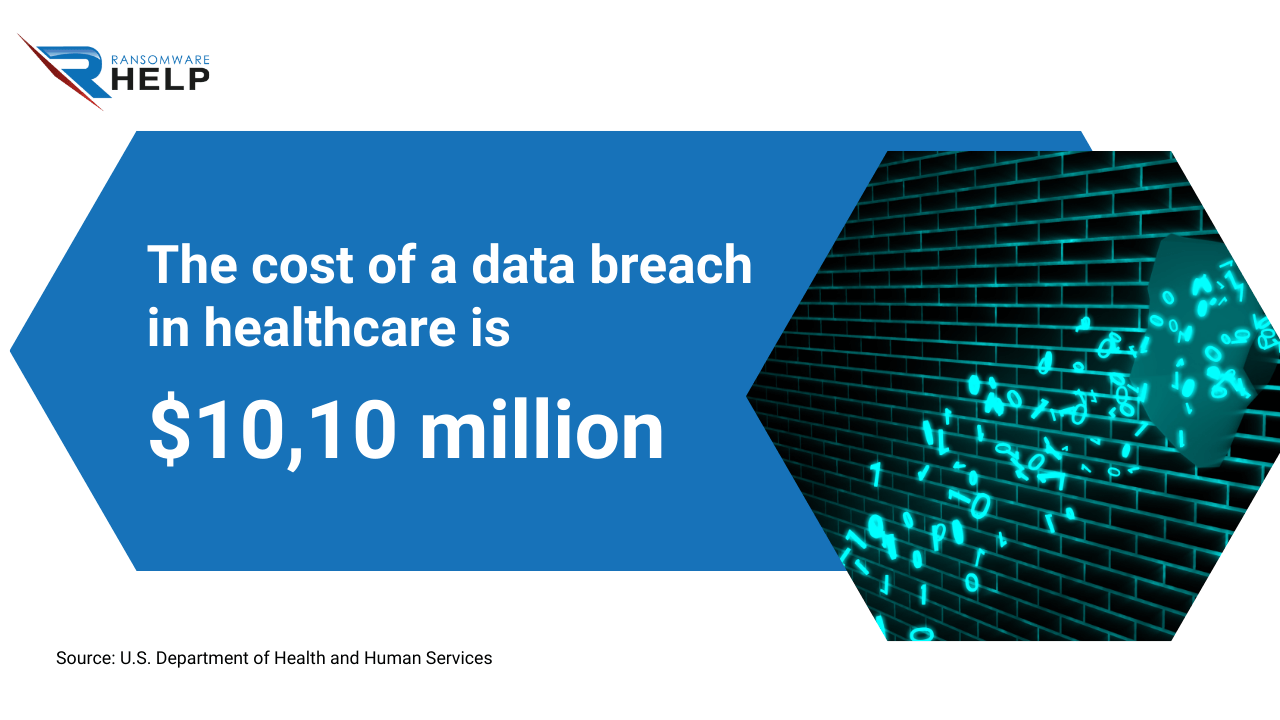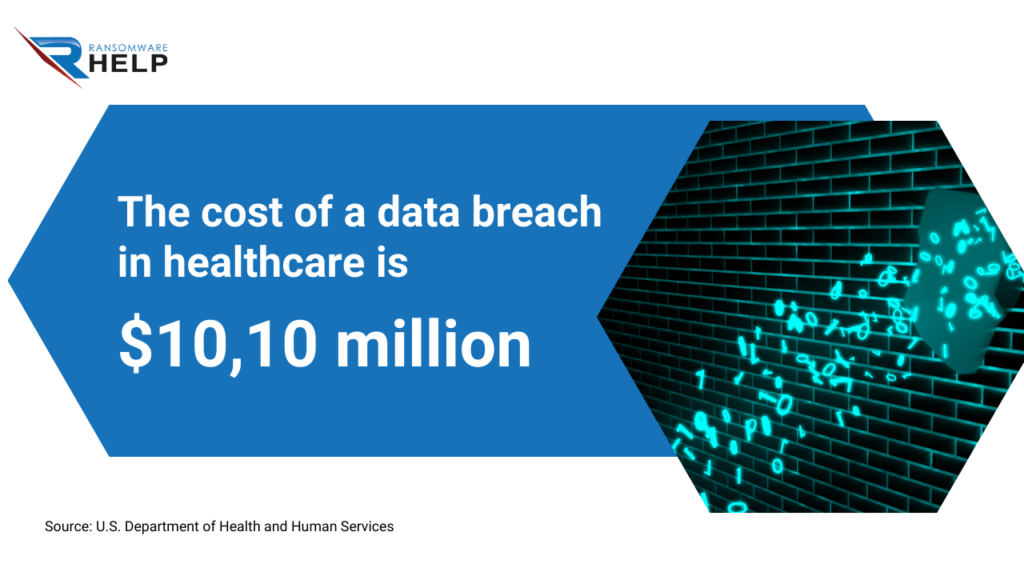 Veeam reports that 55% of healthcare organizations suffered a ransomware attack in 2021, and 36% could recover their data;
They also report that only 25 percent of healthcare organizations would be willing to change their protection solutions for cost reasons;
Ransomware attacks in the medical sector nearly doubled from 2020 to 2021 – from 34% to 66%, according to Sophos;
This source also indicates that 44% of healthcare organizations take a week to recover from the attack, while 25% need a month.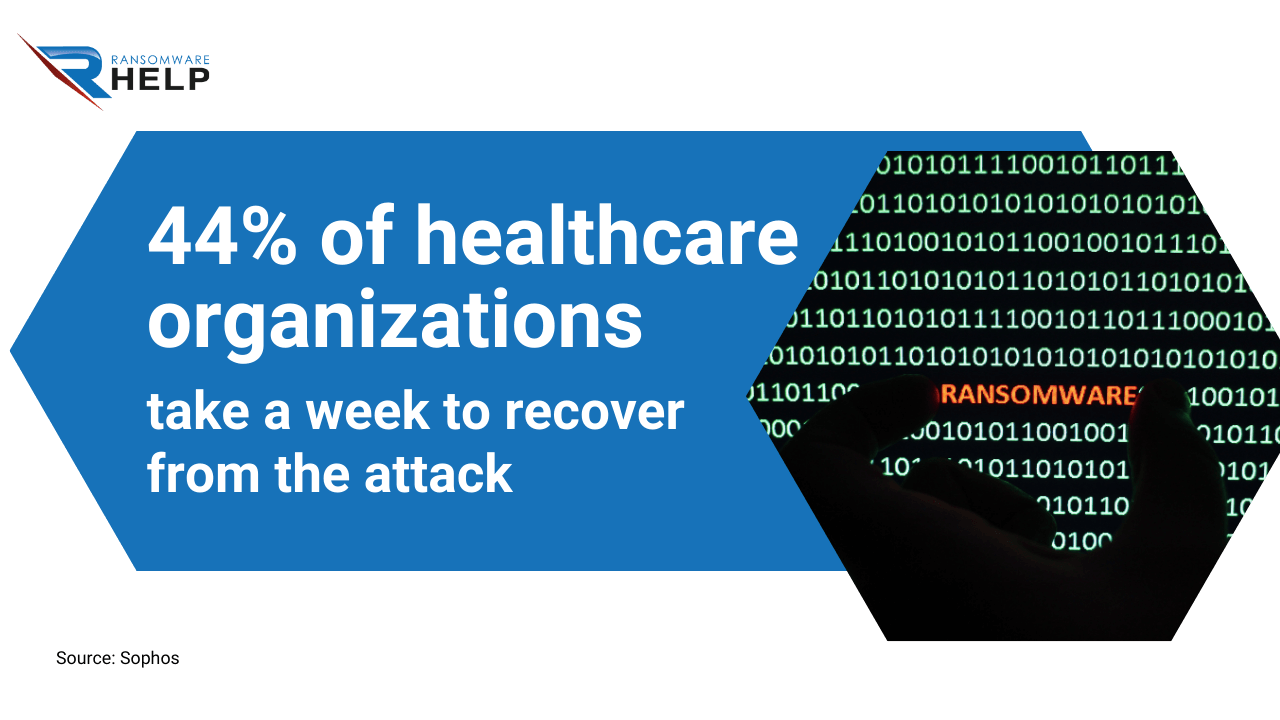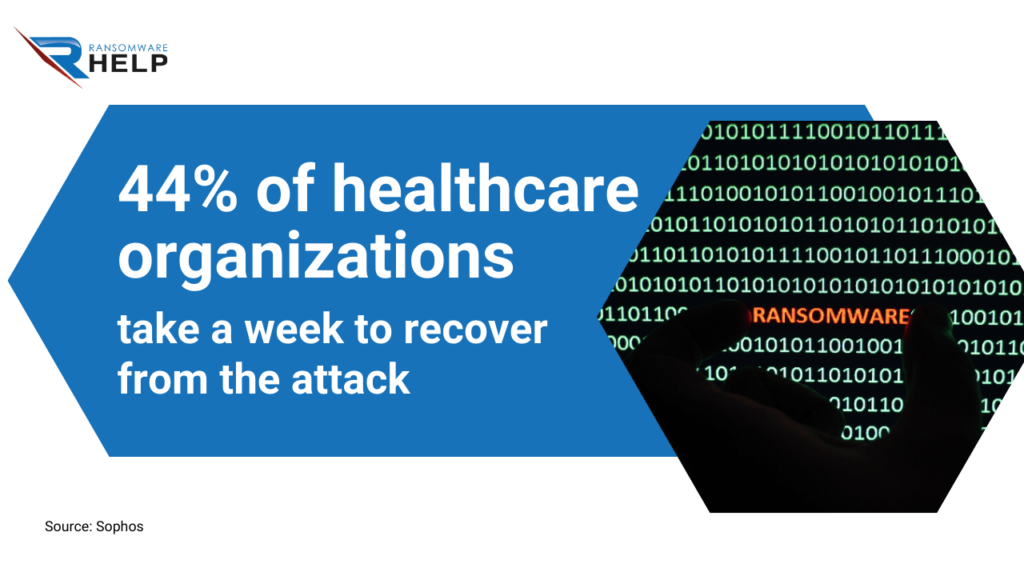 These statistics point to one conclusion: ransomware in the healthcare sector is on the rise, and hospitals and medical centers are vulnerable to such attacks.
What is the biggest healthcare data breach to date?
According to Statista, the Accellion FTA Hack data breach was the most prominent healthcare data breach, affecting 3.5 million people.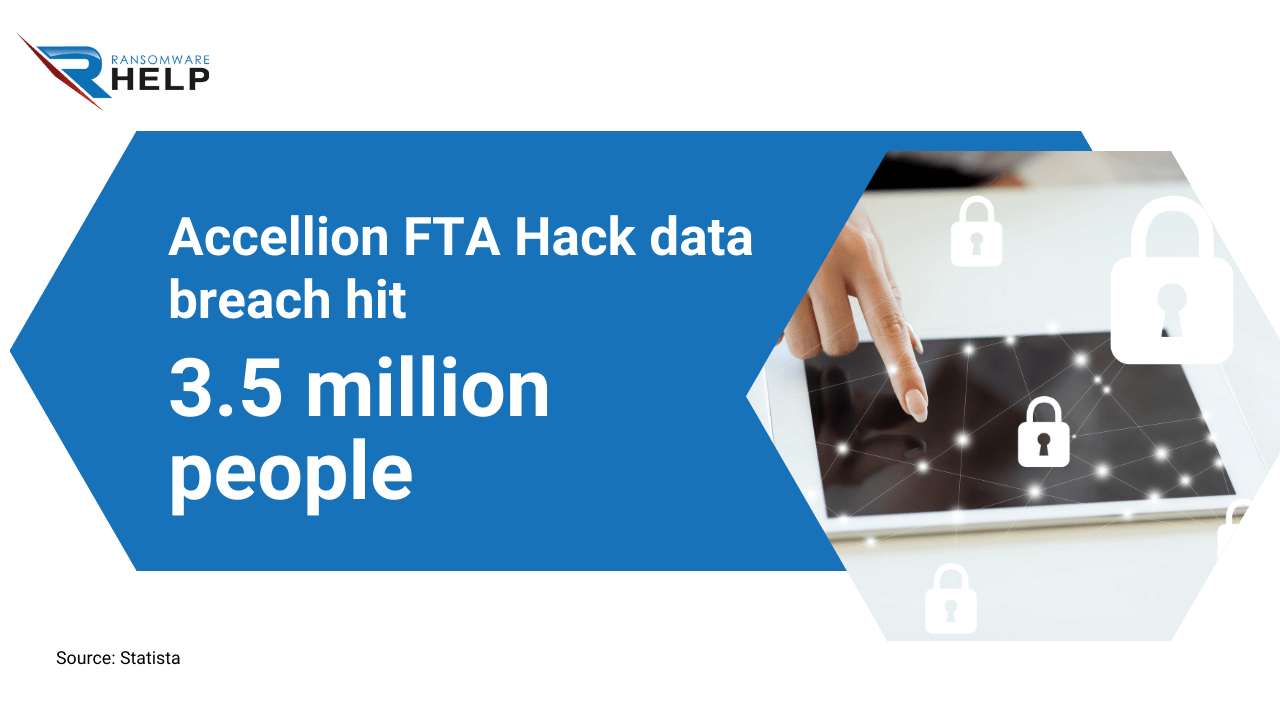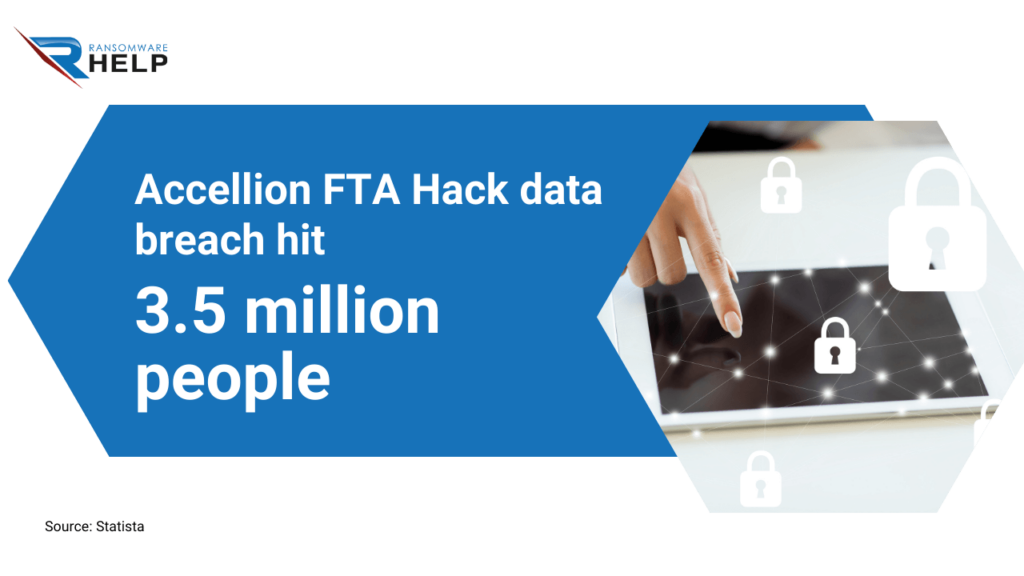 According to the plaintiffs' motion, Accellion reached an agreement to settle a personal information breach lawsuit:
'The tech company faced accusations about not properly securing the confidential personal information of millions of people after hackers exploited a platform vulnerability.'
Should hospitals pay the ransom for ransomware in the medical sector?
Security experts, including HelpRansomware, advise hospitals not to pay the ransom since there is no guarantee that hackers will return the information.
Sophos reports that the healthcare organizations that paid the ransom recovered only 65% of their data.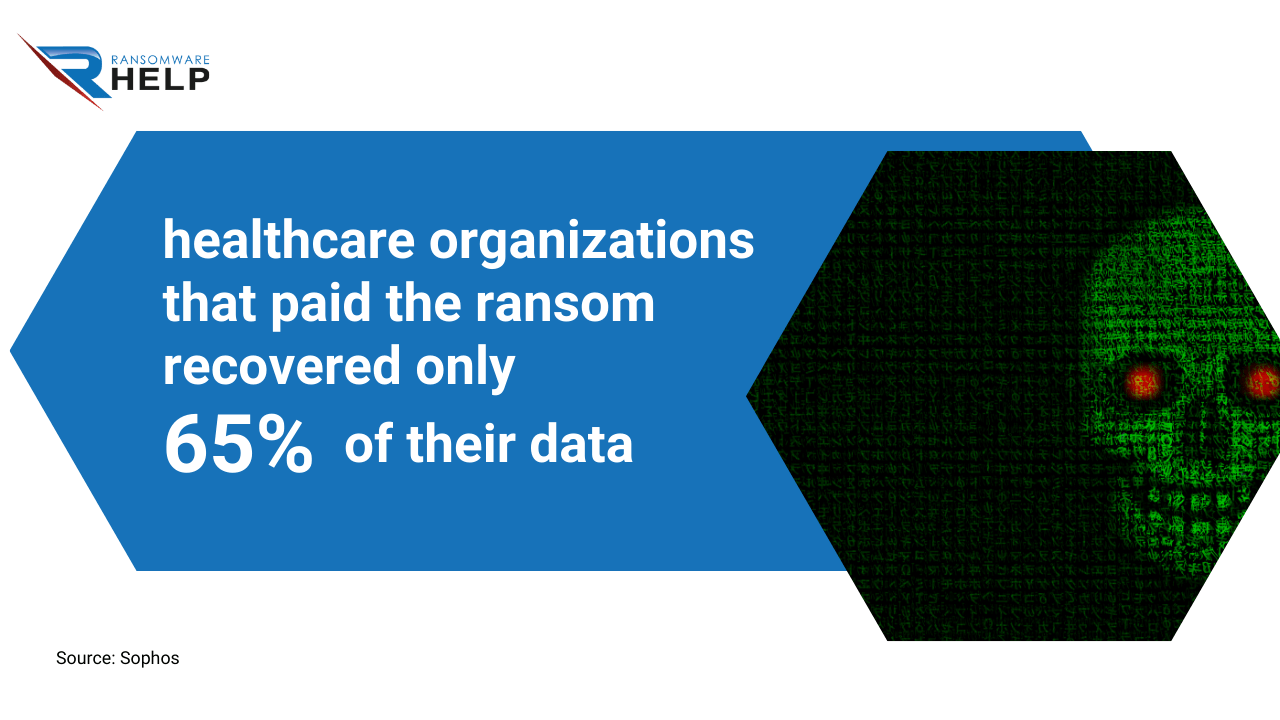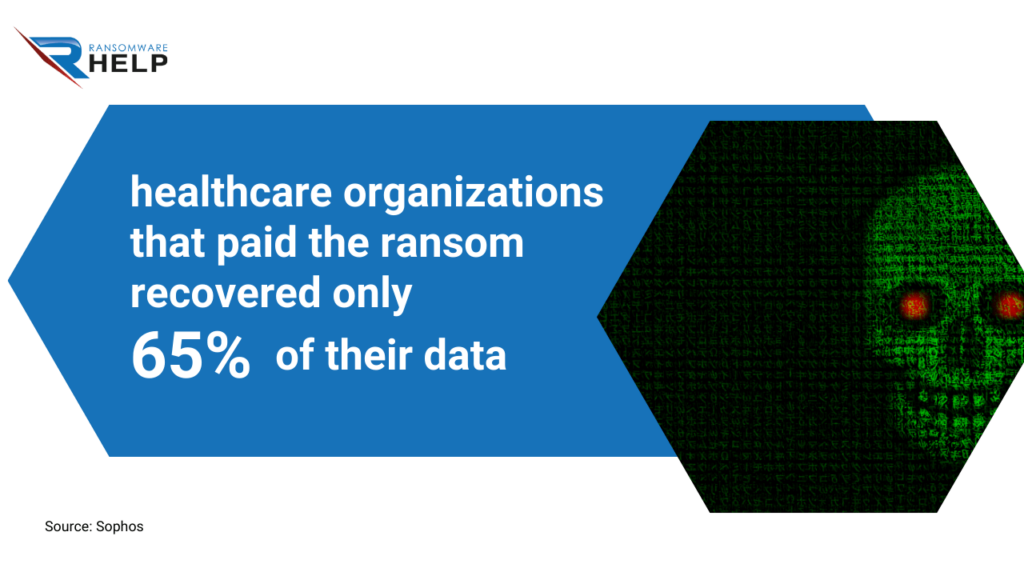 The best way for hospitals to protect themselves is to use a reliable backup system and update their software regularly.
Contact HelpRansomware, a leader in ransomware removal, cybersecurity, and decryption.
Their team will assist by removing ransomware and opening encrypted files.
It can also offer you a consultancy on computer security and ransomware prevention in the healthcare sector.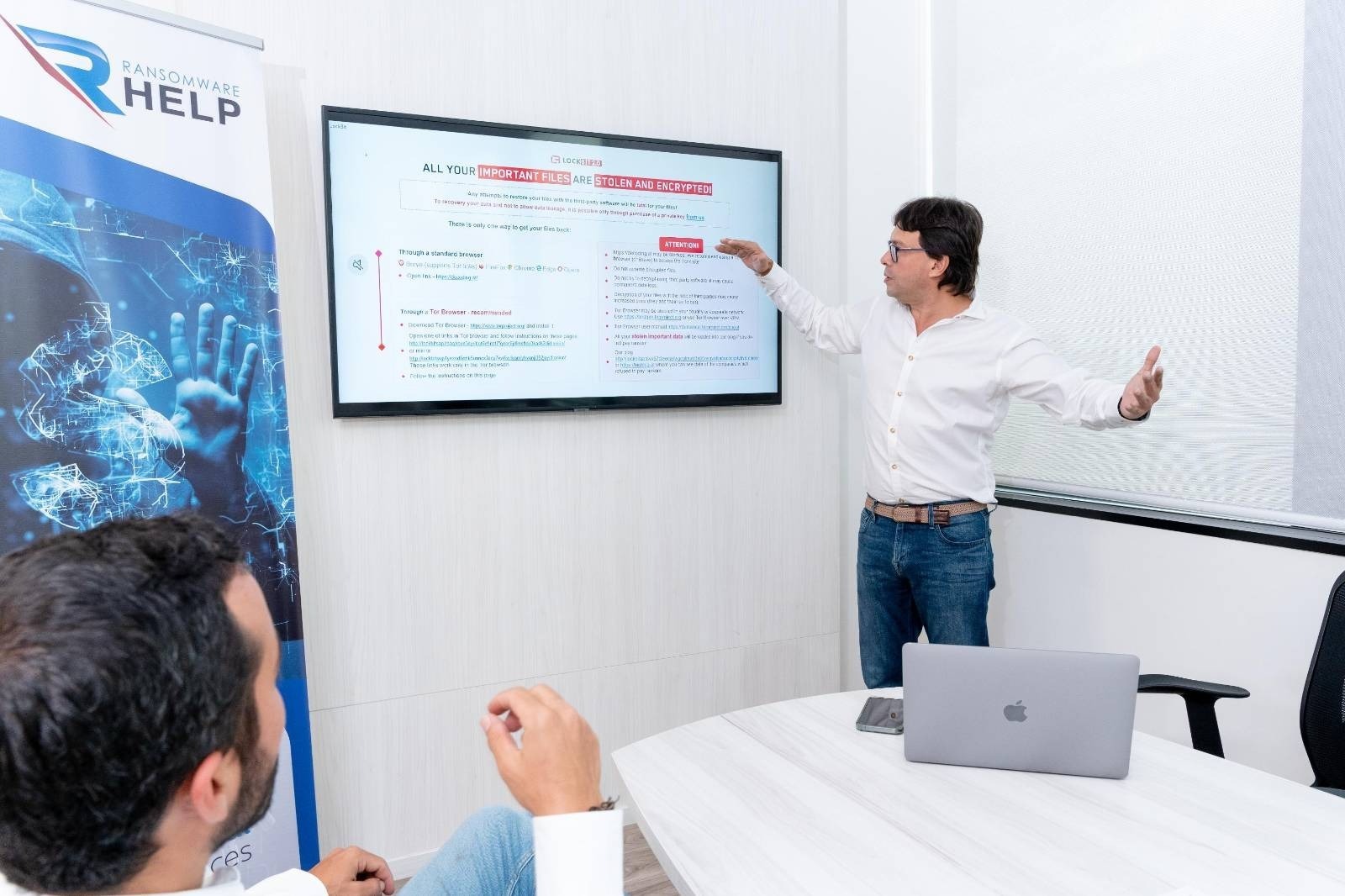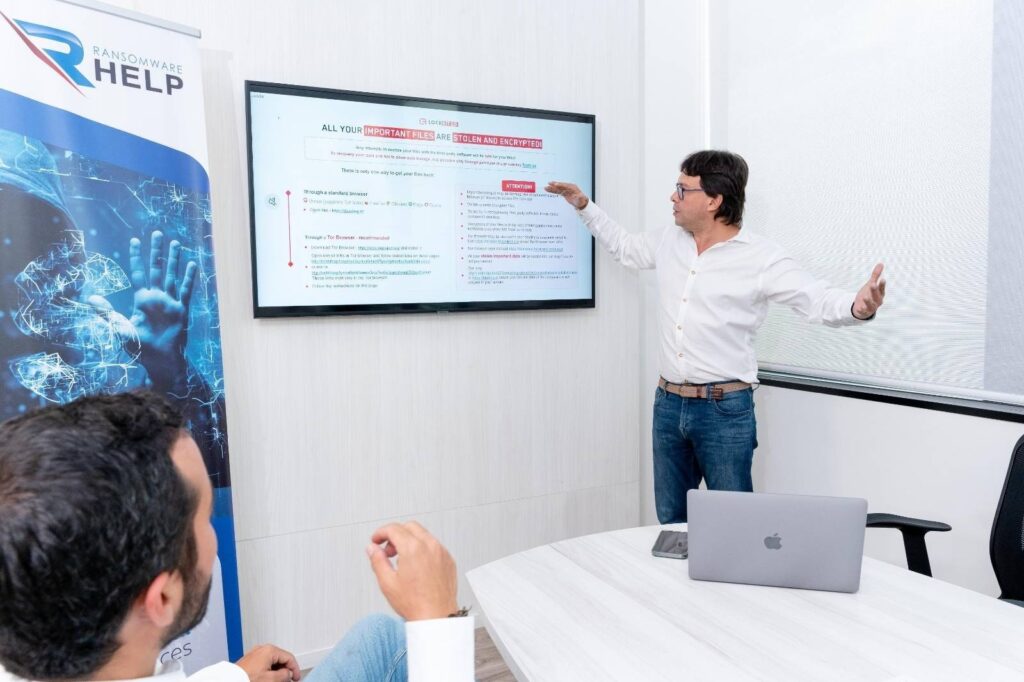 Do you need help now?
Speak to a ransomware expert today
Are hospitals paying the ransom?
Sophos reports that medical organizations are the most likely to pay the ransom, ranking first among all sectors (61%).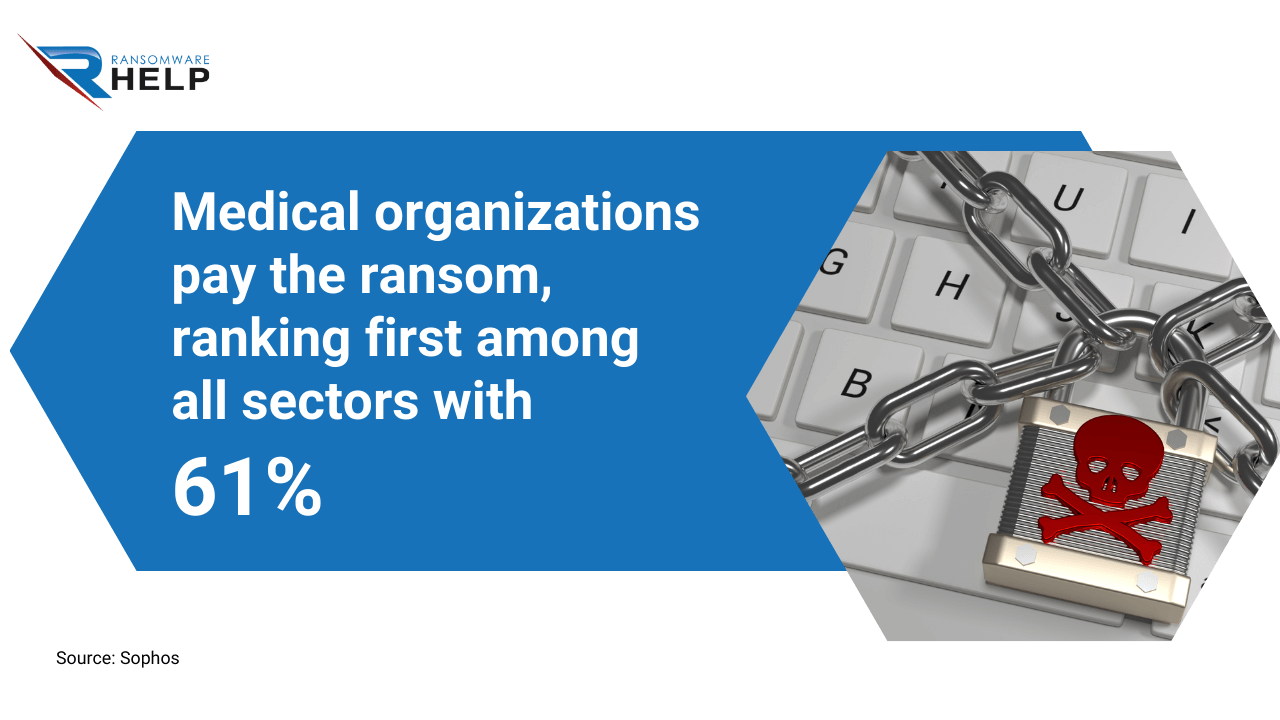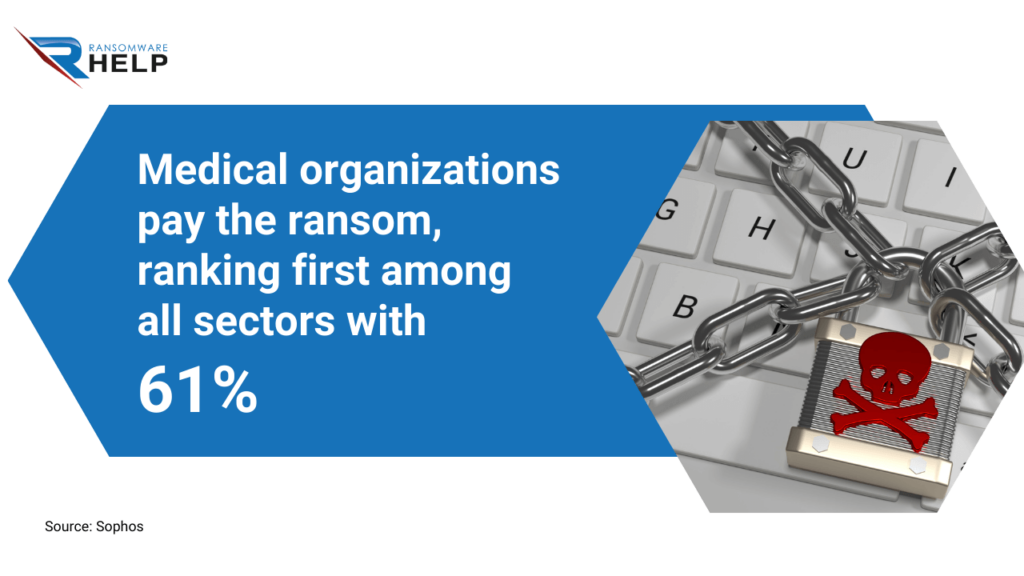 We must emphasize the importance of not paying the ransom to hackers.
If you're a ransomware victim in the medical sector, trust companies that remove ransomware and are experts in data recovery.
That is the case with HelpRansomware, formed by an expert team that is available 24/7.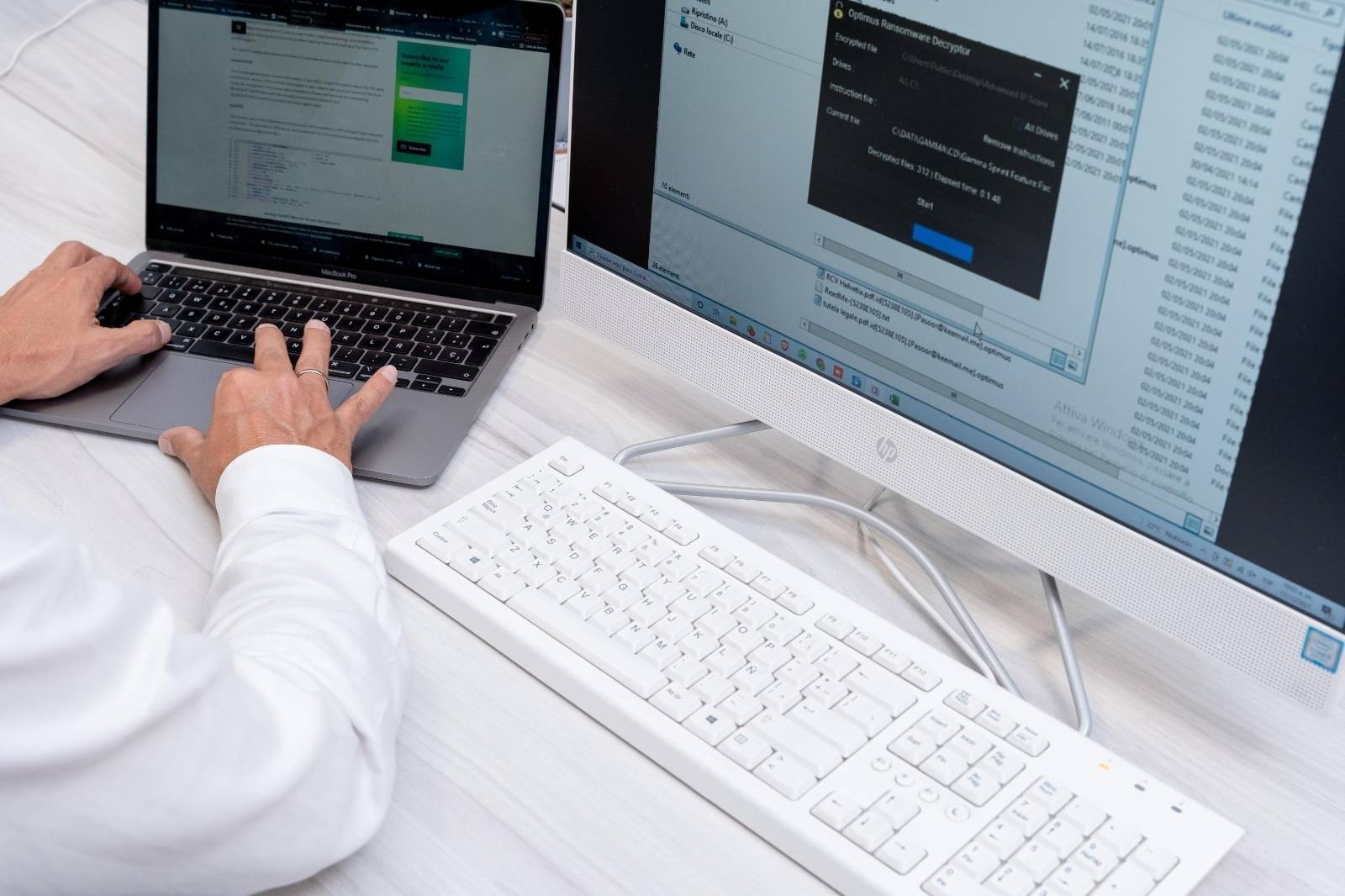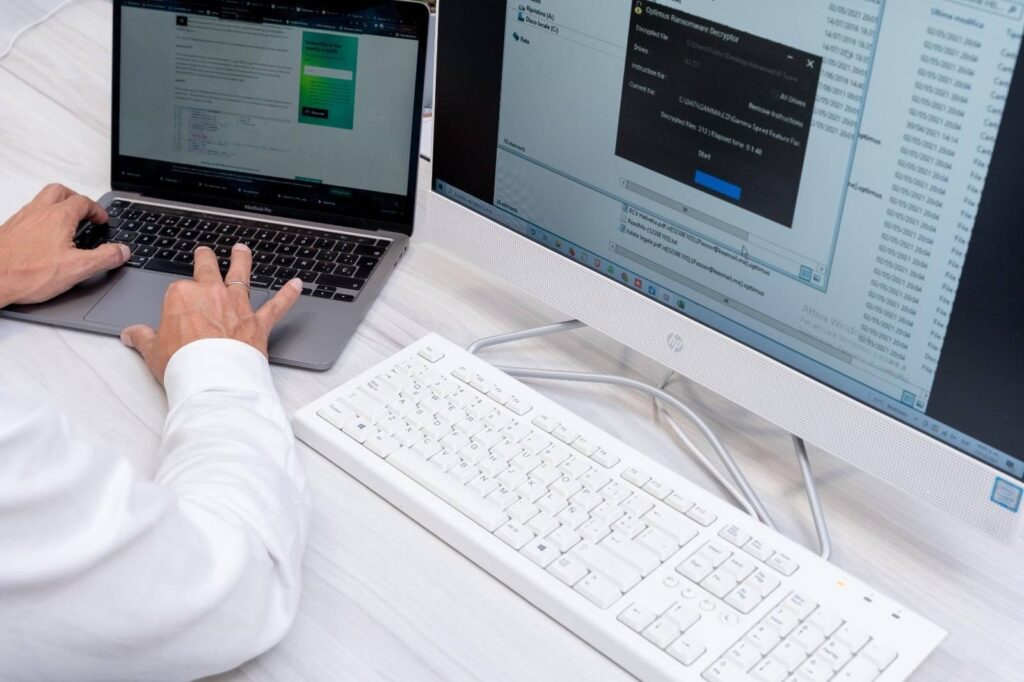 Contact a specialist
Our ransomware experts are available 24/7 around the world
How do hospitals protect themselves from ransomware?
Hospitals are less safe from ransomware attacks than other industries.
They are vulnerable to malware and viruses due to the numerous connected devices used to support their operations.
Hospitals have a higher infection rate due to the devices they use.
Furthermore, they are vulnerable to ransomware attacks because they store appealing and valuable confidential patient data for cybercriminals.
Institutions with better funding and infrastructure are more likely to be affected than those with less money.
Healthcare providers must invest in cutting-edge security measures, such as firewalls, antivirus software, and intrusion detection systems.
How do hospitals protect patient data?
The healthcare industry is highly regulated.
Data generated by patients, doctors, and hospitals is highly confidential, and criminals exploit it.
Hospitals must protect confidential data from unauthorized access or risk losing their online reputation and the confidence of their patients.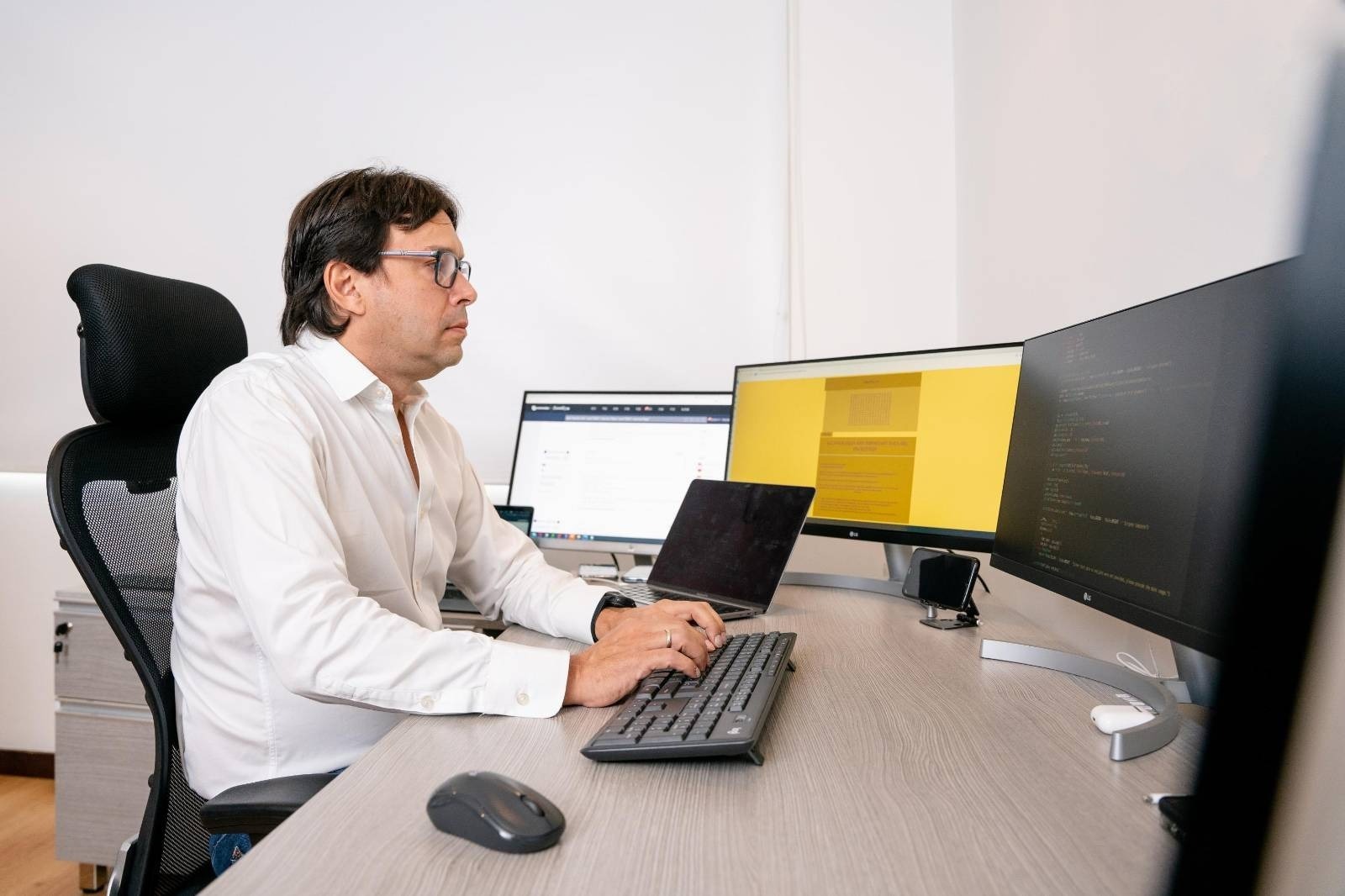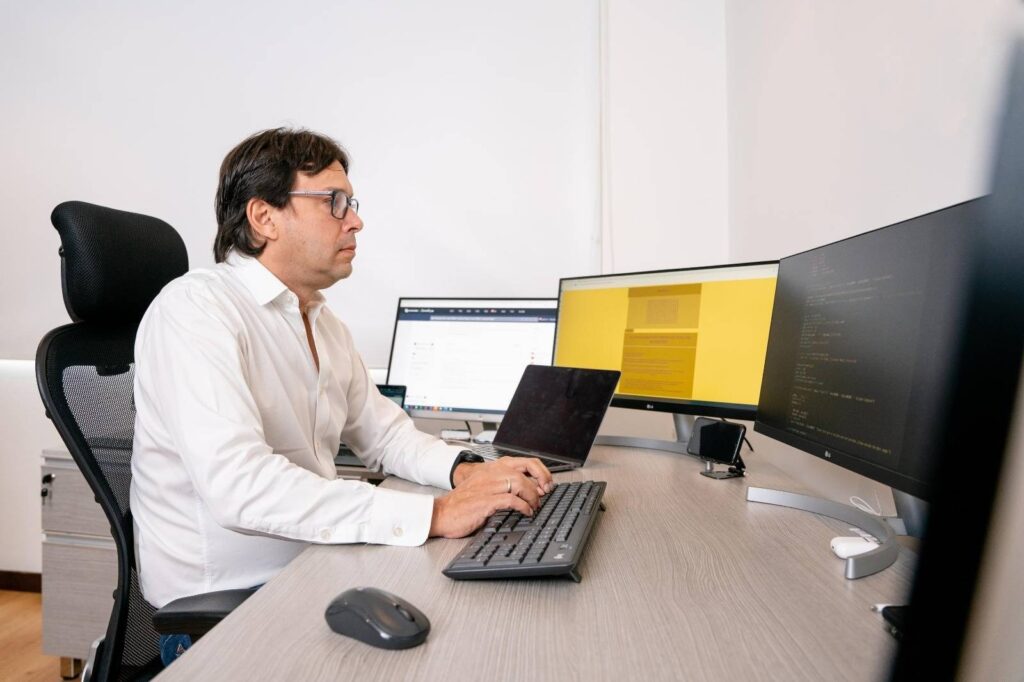 Do you need help to recover your data?
We remove ransomware and recover your files
Hospitals can protect patients' data using some precautions.
Storing data in secure databases, using encryption, restricting access to those who need it, and enforcing strict confidentiality guidelines for employees.
How can hospitals prevent ransomware attacks in the healthcare sector?
They must first have a solid backup and recovery plan.
They should use antivirus software that is automatically updated.
Ransomware attacks in the medical sector can disrupt hospital operations.
As a result, hospitals must have ransomware protection and recovery plans in place.
According to Veeam, 74% of healthcare organizations still rely on manual actions to resume operations and disaster recovery.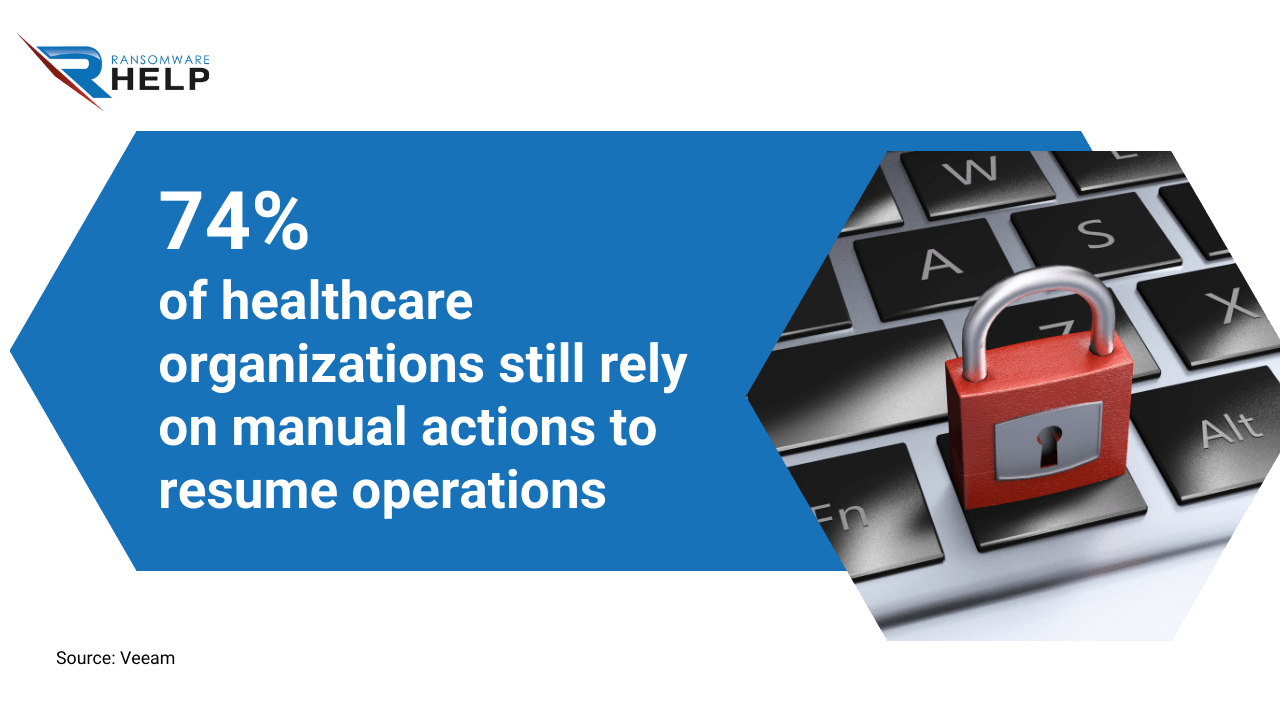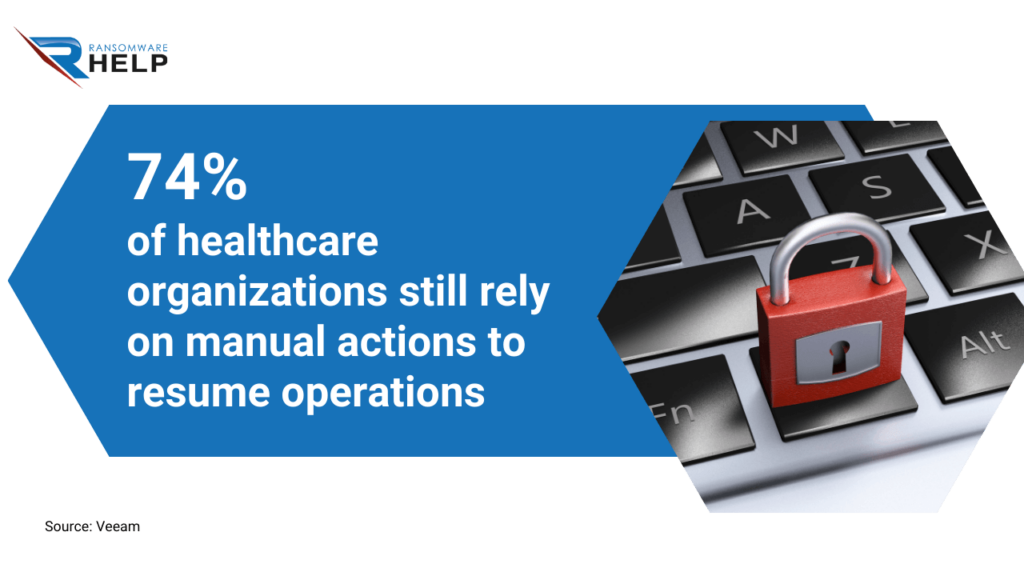 How can we improve cybersecurity in the healthcare industry?
Cybersecurity in the healthcare industry is a significant concern for patients and providers.
Cooperation is essential to develop new tools for mitigating this issue.
That is, identify potential vulnerabilities through a plan that includes risk analysis, vulnerability assessment, weakness management, secure configuration development, and ongoing security auditing.
You can contact HelpRansomware to analyze your organization's vulnerabilities with its team and, thus, improve its security.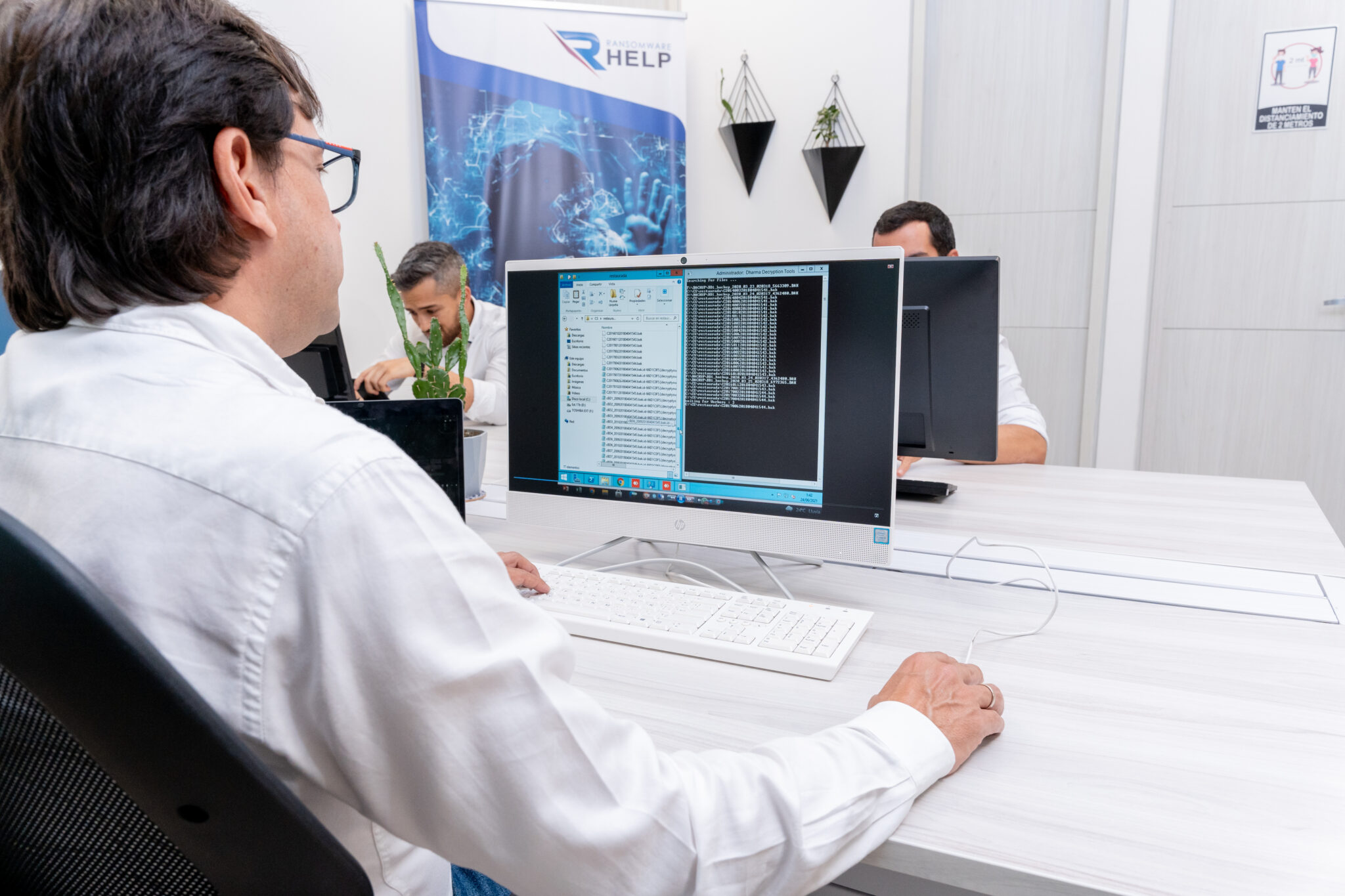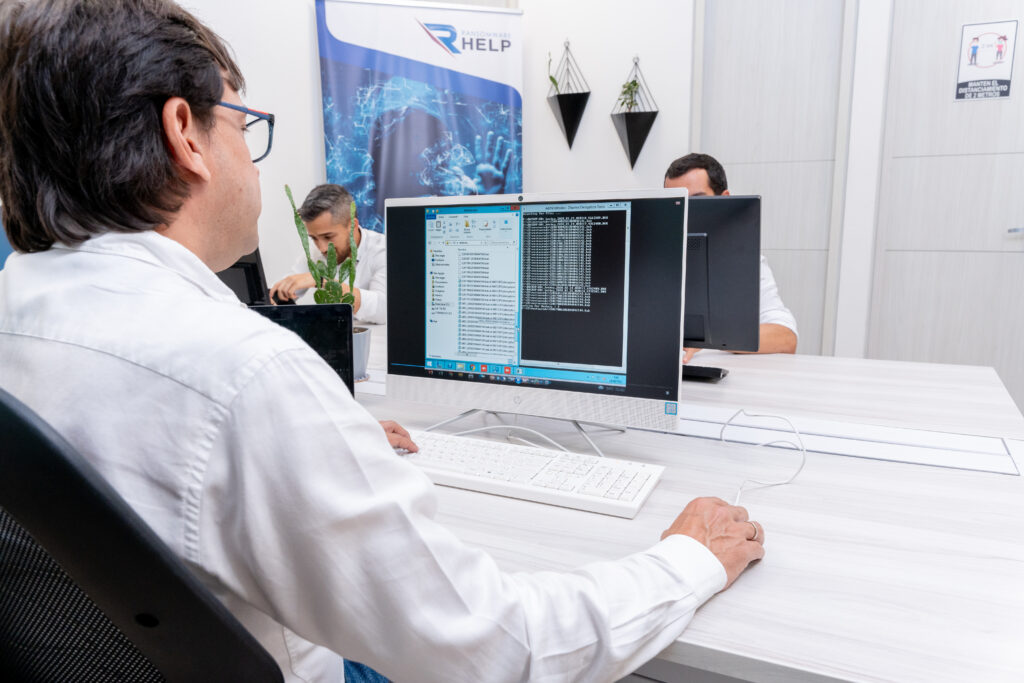 Have you been victim of a ransomware attack?
HelpRansomware guarantees you ransomware removal and recovery of all encrypted files
Conclusions
In this guide, we have provided ransomware statistics in the medical sector.
You have also learned why these attacks and security tips are aimed at the industry.
We can draw the following conclusions from this article:
Identity theft is the most common type of cybercrime in the healthcare sector;
Hackers exploit the weaknesses of this industry to spread malware that encrypts files;
The healthcare industry will spend $125 billion on cybersecurity in five years;
Spending on healthcare data breaches has reached $10.10 million;
The attack on Accellion FTA Hack is considered the largest in this sector, affecting 3.5 million people.
A unified message must reach organizations in the medical industry affected by ransomware: do not pay the ransom.
Cybercriminals rarely return files, and if they do, they are corrupted.
If you are a ransomware victim, contact a specialized company such as HelpRansomware.
The company is an expert in ransomware removal, cybersecurity, and decryption.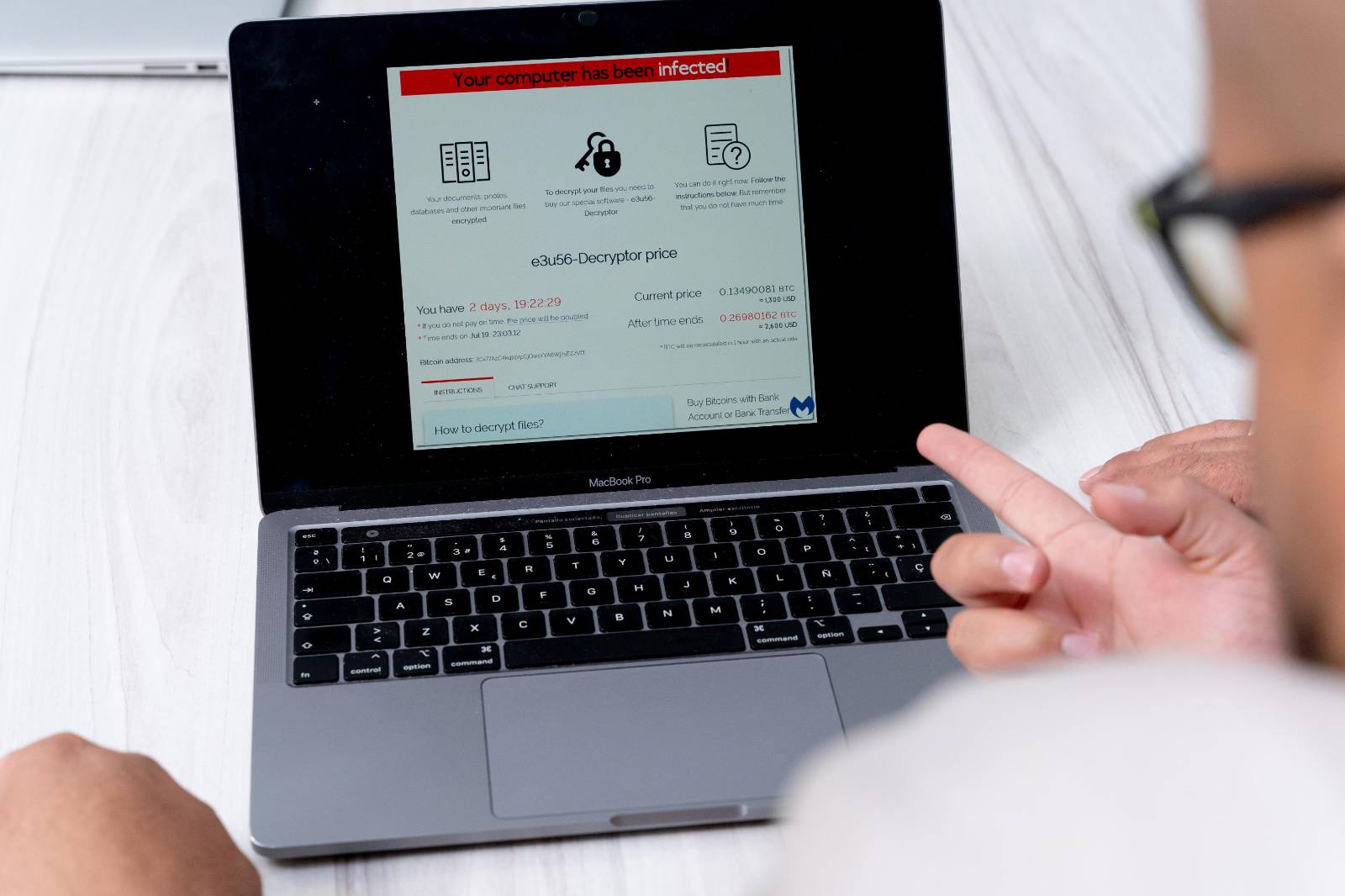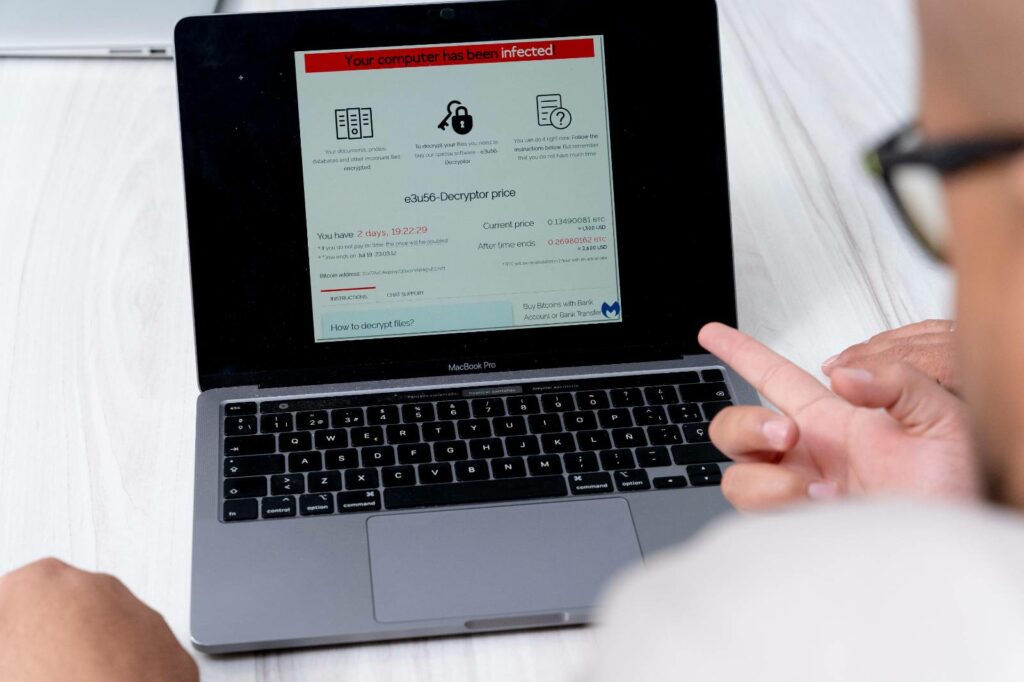 Have you been required to pay a ransom to get your files back and access the system again?
Don't pay the ransom! Contact HelpRansomware