Learn how to protect your data with a ransomware data recovery strategy and recover encrypted files.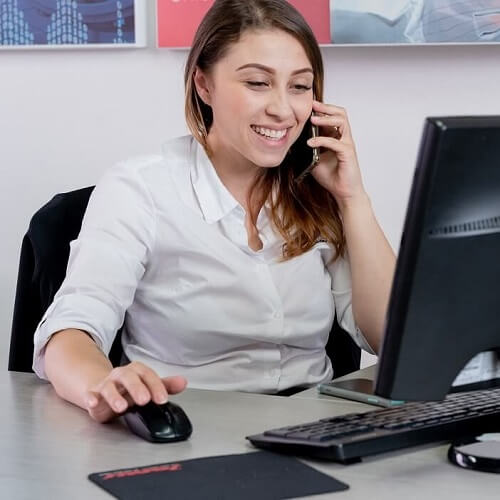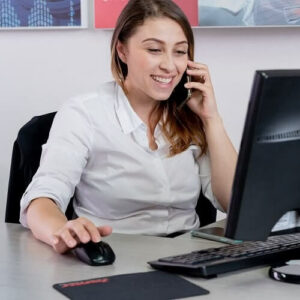 Immediate Ransomware Help
Don't let ransomware hold your business hostage. Our experts are ready to recover your data and secure your systems.
What does Ransomware data recovery mean?
When after a ransomware attack you need to recover encrypted files, it is called ransomware data recovery.
Different levels of encryption can cover the files affected by the malware.
To unlock the encryption, the cybercriminals offer you to pay a ransom in exchange for the decryption key.
However, paying the ransom does not constitute a guarantee for file recovery.
Therefore, the data recovery process is nothing more than the recovery of encrypted data without bending to the will of cybercriminals.
According to the Merriam Webster online dictionary definition, this term means:
"The process of getting back computer files that are or seem to be lost."
Having a data recovery plan is essential for companies.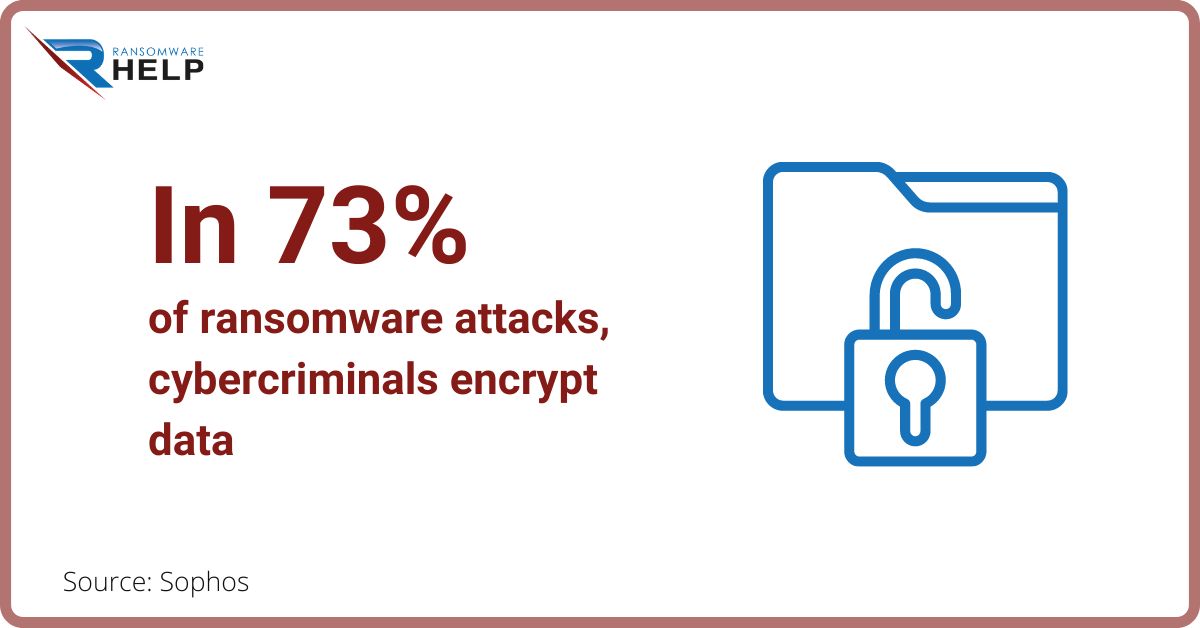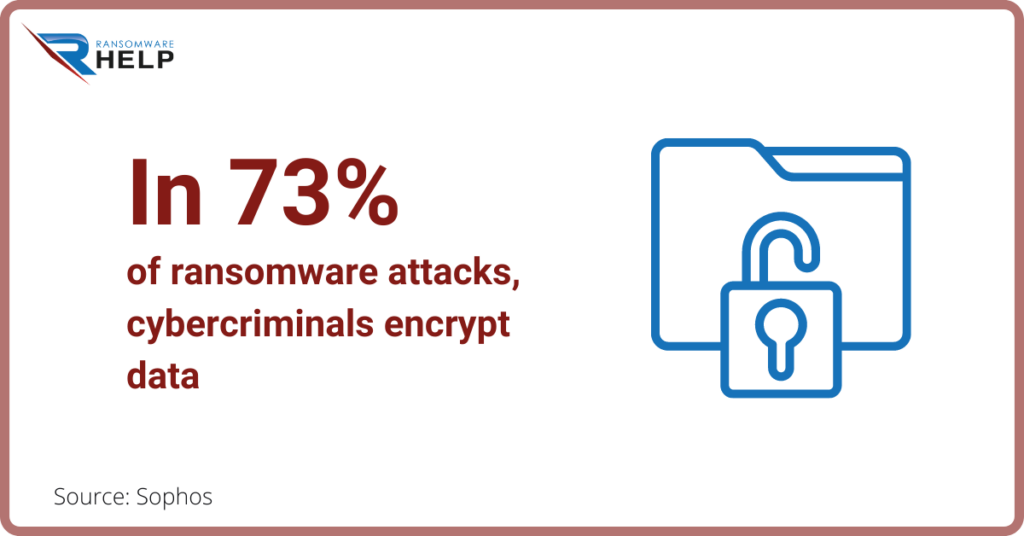 As reported in the study by Sophos, cybercriminals encrypt data in 73% of ransomware attacks.
However, it is encouraging that the attack was stopped in 24% of cases before the data could be encrypted.
What is a Ransomware Attack?
Ransomware is malicious software that accesses your device by encrypting all data until the ransom is paid.
This belongs to the more prominent family of malware, which acts on the operating system compromising its security.
Usually, the victim of ransomware does not realize that he is affected until he sees the ransom note appear on the screen.
Once installed, the virus quickly spreads to all internal and external disks and the network.
Through advanced double key encryption, the ransomware locks all files.
Bear in mind that hackers continue to improve the security level of viruses they put on the network.
The higher the level of encryption, the more complex the data recovery process will be.
However, don't be intimidated by paying the ransom.
Once the ransomware attack is complete, you will see a message appear on the screen with a ransom note which is often in bitcoin.
Hackers try to convince victims to pay the ransom by promising the file decryption key in exchange.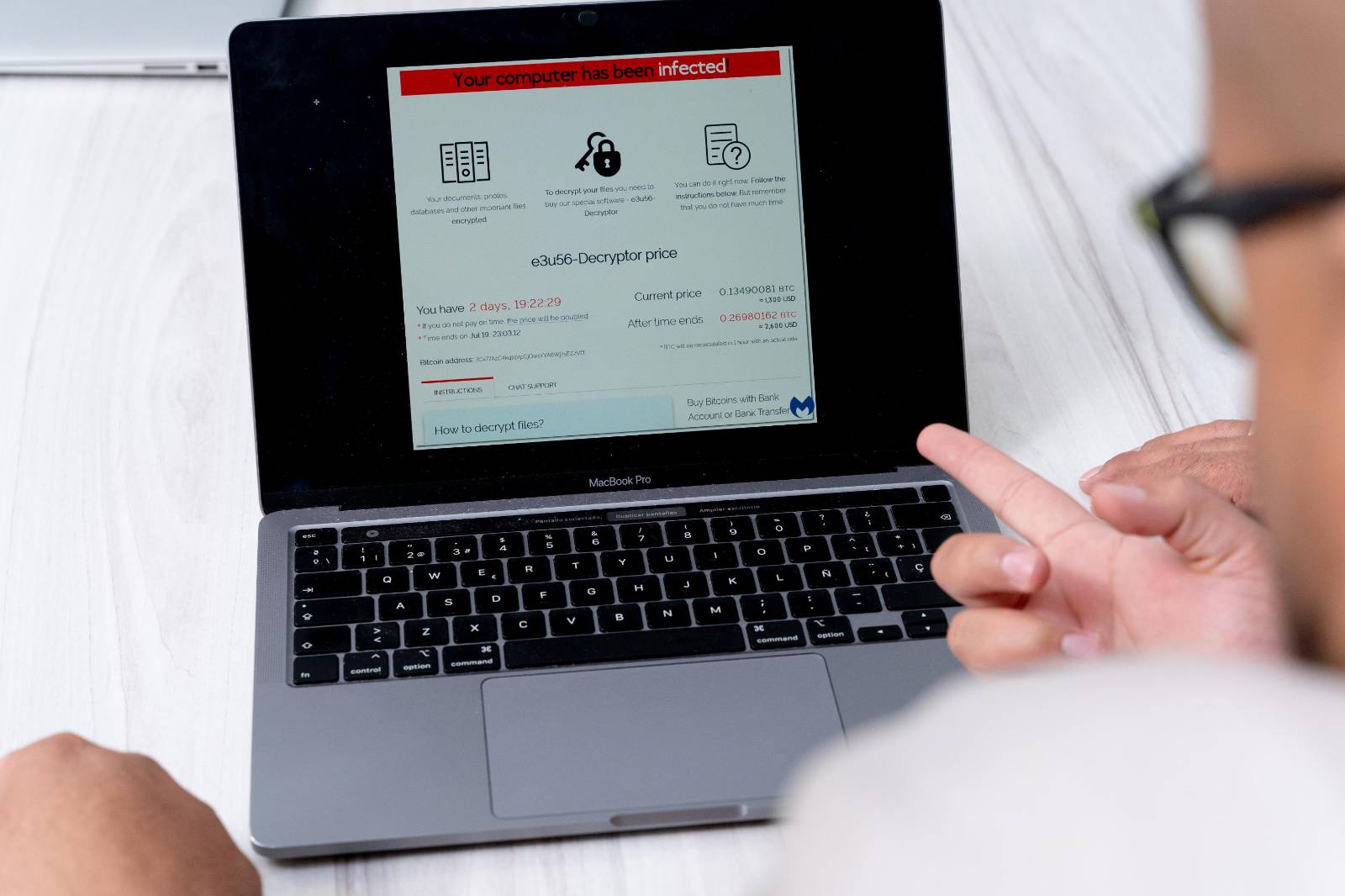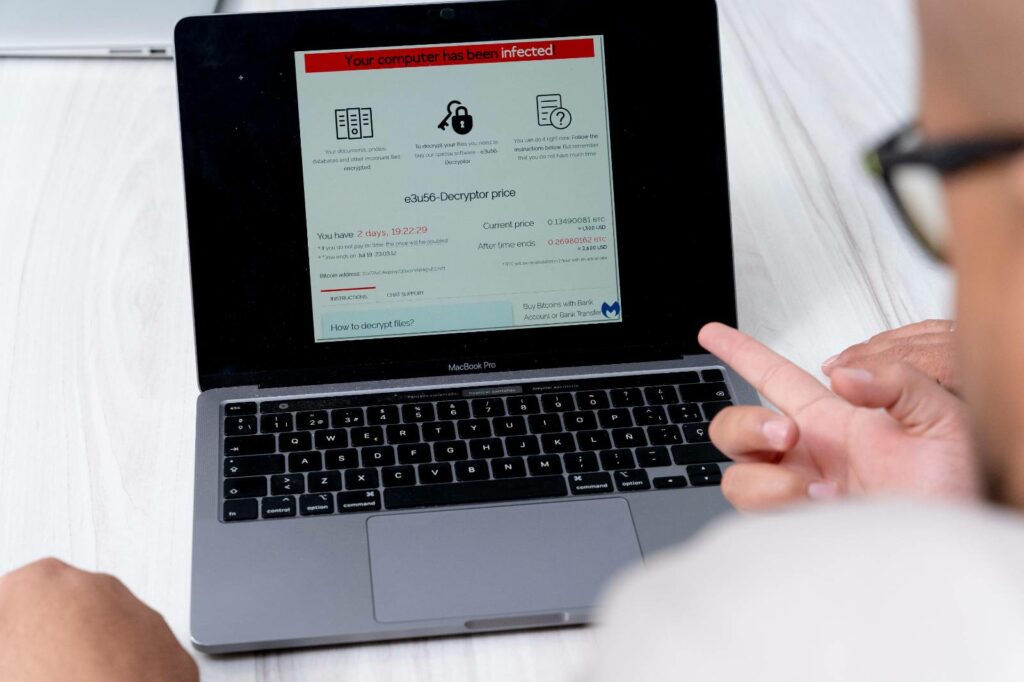 Immediate Ransomware Help
Don't let ransomware hold your business hostage. Our experts are ready to recover your data and secure your systems.
How to prevent Ransomware attacks?
In the case of ransomware, having a good prevention plan helps you save a lot, both in terms of money and time.
Two interesting data in this regard emerge from the report drawn up by the World Economic Forum, Global Cybersecurity Outlook 2022:
"The cost of breaches to an organization is high, amounting to an average of US$ 3.6 million per incident.
Perhaps even more troubling is the growing trend that companies need 280 days on average to identify and respond to a cyberattack."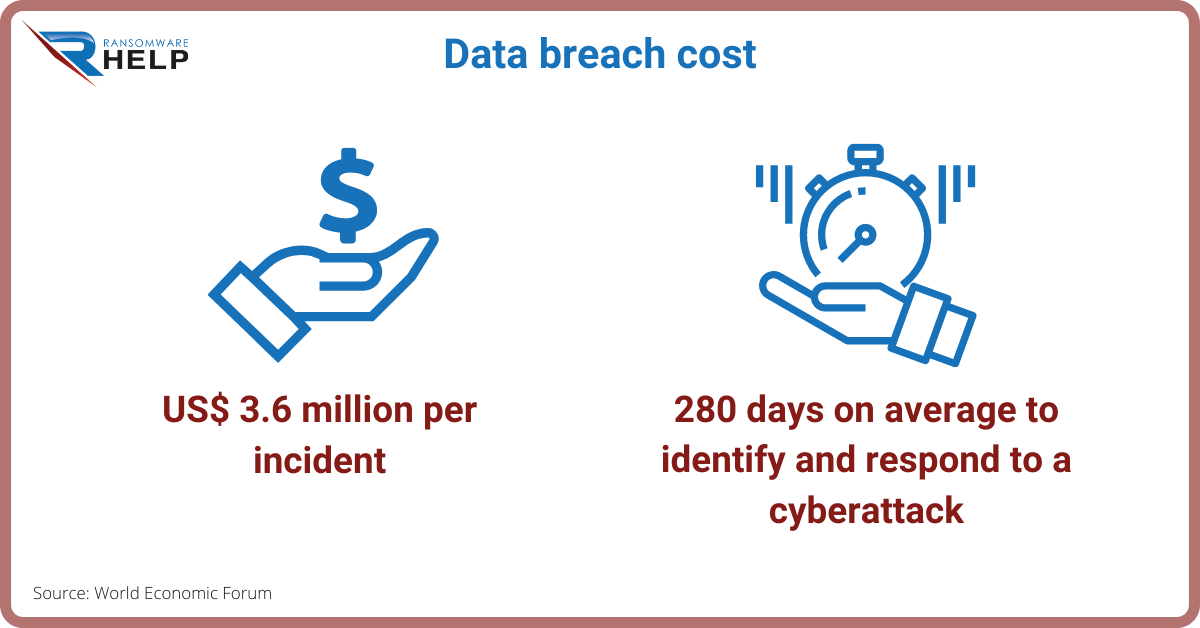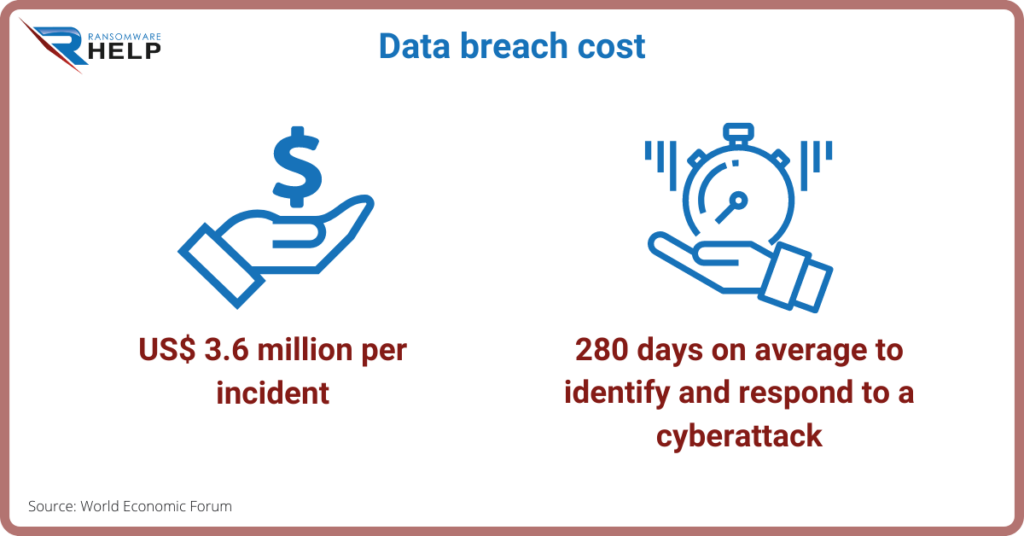 The waste of time corresponds to a tremendous economic loss.
It will therefore be clear to you why it is so important to act in terms of prevention; here are some primary rules to follow:
Do not open email attachments of dubious origin.
Phishing is among the most common and effective ransomware attack methods.
Beware of those accounts that look real but are spoofed;
Pay attention to extensions.
Activate the display of extensions from Windows: the most dangerous files are those with the extension .exe, .zip, .jar, and others.
If you find such files in your emails, avoid opening them;
Installing effective antispam services, even if it does not allow you to obtain 100% security, will certainly expose you to lower risks;
This rule is based on the previous one but considers some of the most well-known plugins, such as Flash Player, Java, QuickTime, etc.
Failure to update exposes the device to possible attacks since these plugins represent "open" ports.
What are the best solutions to make Ransomware data recovery?
Almost systematically, new ransomware is created and introduced on the net.
Equally regularly, you can find free ransomware data recovery file decryptor solutions that promise to solve the problem.
In some cases, these are websites of dubious origin that provide equally unlikely procedures.
The advice is to avoid these channels and follow the rules you will read below.
Ripristinare dati dal backup
When it comes to protecting data and sensitive information, the best rule to follow to prevent ransomware attacks is to make periodic backups.
The higher the frequency of backups, the less risk you will face if your computer becomes infected with ransomware.
You can do backup on physical media, such as external hard drives, and in the cloud.
Proceeding with a double backup, physical and in the cloud, ensures you do not lose your data.
In fact, in case of problems, restore the last backup made to continue your business regularly.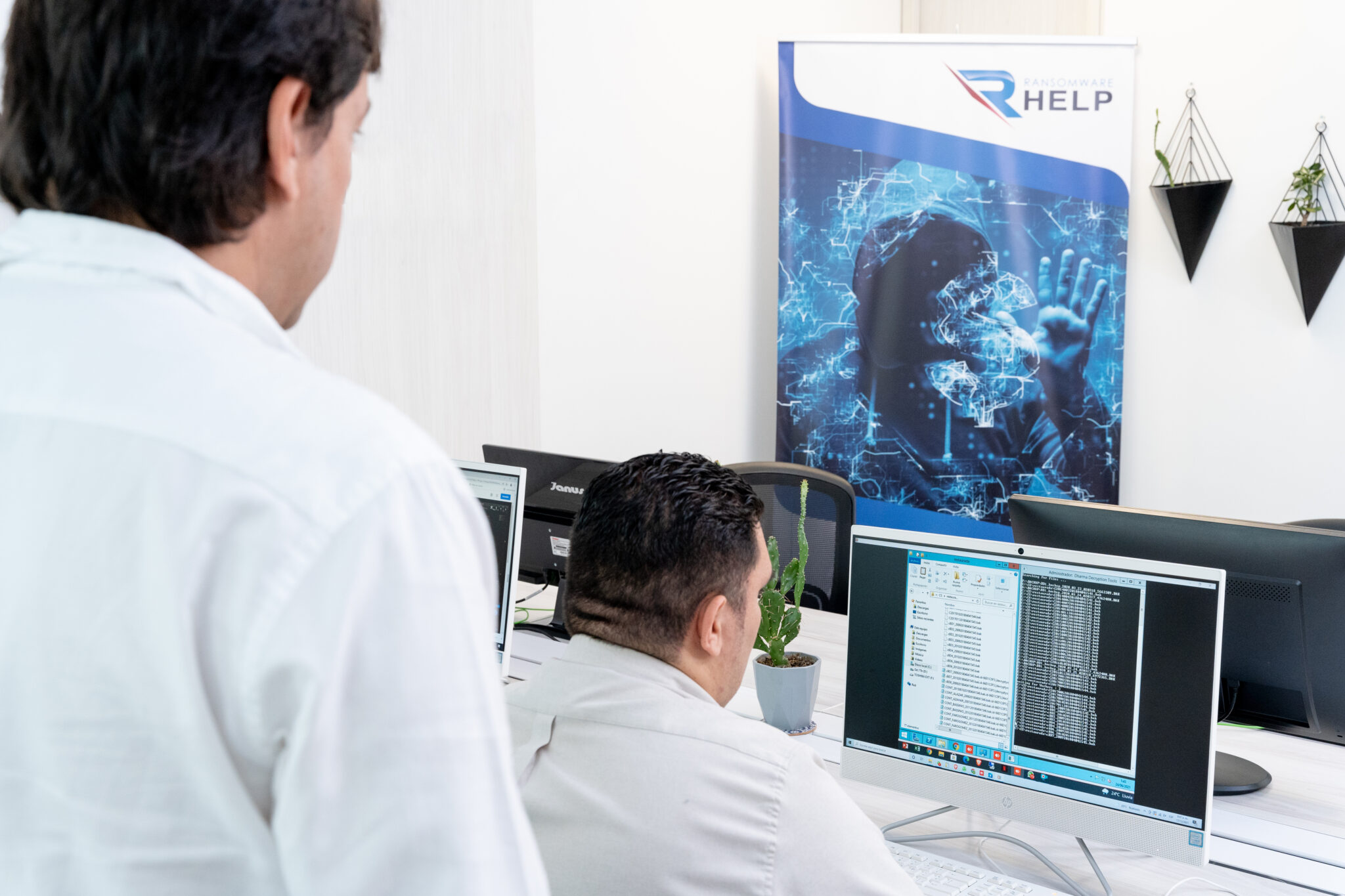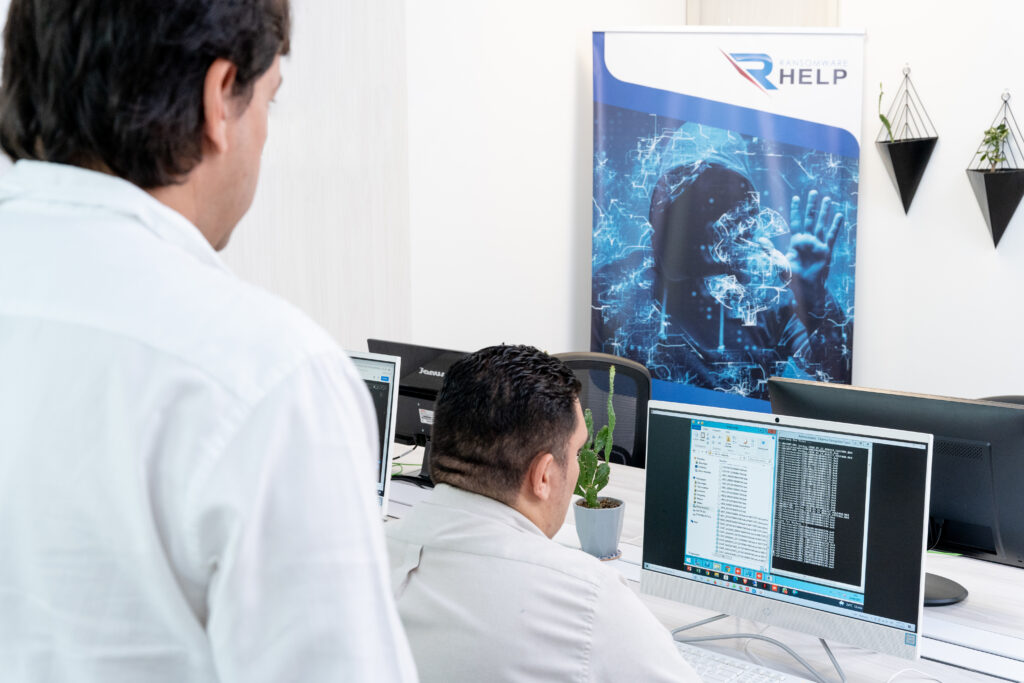 Fast & Guaranteed Recovery
HelpRansomware provides a 100% guaranteed ransomware removal and data recovery service, with 24/7 worldwide assistance.
Use Ransomware Data Recovery software or tool
Online you can find numerous sites offering ransomware data recovery tools.
Unfortunately, however, these are often ineffective solutions, which in some can even put you in danger.
Some malware or spyware lurks in application downloads.
Furthermore, while it is easier to find tools to recognize and block ransomware, it is more difficult to find one that can be used to recover encrypted data.
Contact a company specialized in Ransomware Data Recovery
If your organization is undergoing a ransomware attack, the only way is to contact a company specialized in Ransomware Data Recovery.
Never as in this case, the choice of do-it-yourself solutions could cause further damage.
On the other hand, contacting a specialist allows you to get advice and suggestions to avoid worse consequences.
In these cases, the best idea is to contact specialists, such as HelpRansomware.
With over twenty years in the data recovery and forensic analysis sector, the company is the number 1 in the world for removing ransomware.
How to Build a Ransomware Data Recovery Strategy?
Building a Ransomware Data Recovery strategy is of paramount importance in the business environment.
Not only has the number of ransomware attacks increased per year (+ 151% in 2021).
But, as stated on the Cybersecurity and Infrastructure Security Agency (CISA), the value of the ransoms is also growing: some requests have exceeded 1 million dollars.
For this reason, according to the document of the World Economic Forum, 81% of respondents believe that the digital transformation of the company is the main driver for improving IT resilience.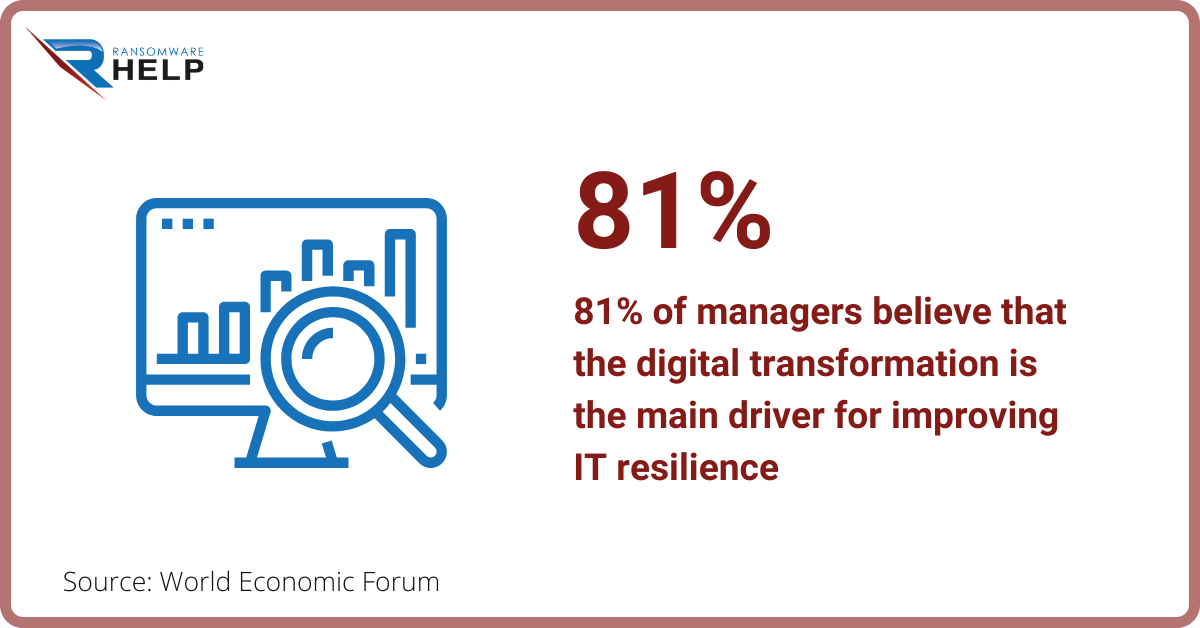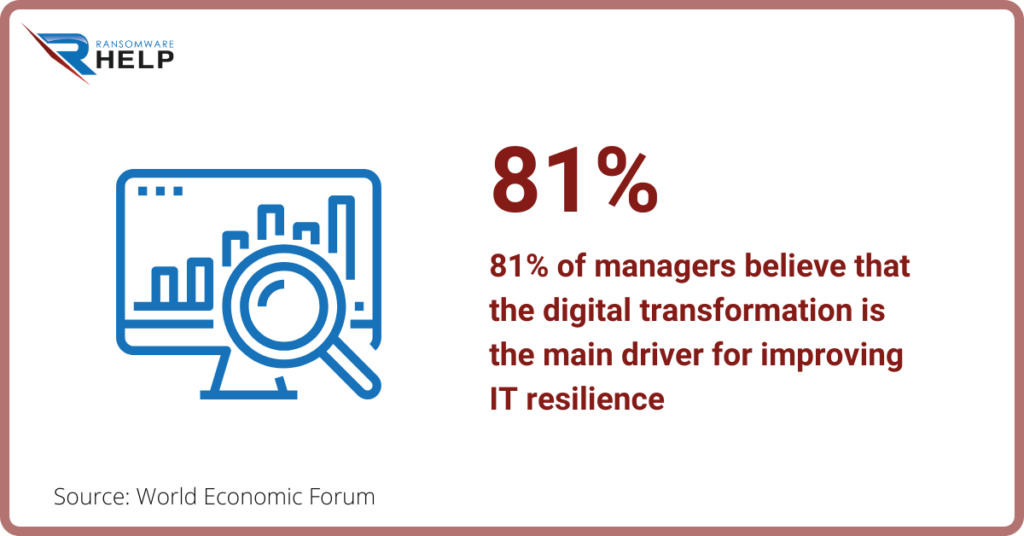 The percentage rises to 87% when you look at executives planning to improve cyber resilience in their organization.
This process is effective if the following practices are implemented:
Strengthening of internal policies;
Standardization of execution processes;
Increase in cyber resilience standards;
Involvement of third parties.
On the other hand, there are other good practices that everyone, inside and outside companies, can follow.
Below we will show you the most important ones.
Classify your data
The first step is to classify your data.
All informations are important, and there is no doubt about this, but some data are more critical than others and should be considered a priority.
As Microsoft's page explains:
"Data classification allows you to determine and assign value to your organization's data and provides a common starting point for governance.
The data classification process categorizes data by sensitivity and business impact in order to identify risks."
Establishing which ones are is of fundamental importance because it will be possible to move according to the degree of urgency at the moment of recovery.
In other words, when you have to open encrypted files, the first will be those that allow you to resume activities.
Identify your weaknesses
Identifying the weaknesses of a computer system is a task that is better to be entrusted to an external consultancy company.
In fact, in most cases, human error is behind the success of a ransomware attack.
Social engineering is at the root of cybercrime.
Hackers use them to access networks by exploiting the weaknesses of systems and people.
Knowing your vulnerabilities will allow you to be stronger in the face of any attack.
Define a Ransomware Data Recovery plan
A Ransomware Data Recovery plan necessarily goes through a few stages.
For example, the ones described on the Canadian Center for Cyber ​​Security web page can be considered.
Before getting to the true and proper recovery plan, there are several preliminary actions:
Conduct a risk assessment: it will allow you to identify the resources at your disposal;
Establish your response team: planning this aspect will make the difference in the critical moment so that everyone will know precisely how to implement;
Develop company policies: you need policies in line with those of your organization and with compliance requirements;
Create your communication plan: clarity among all stakeholders in the process is critical to the success of your incident response;
Educate your employees: 59% of the World Economic Forum report respondents say it would be difficult to respond to a cybersecurity incident due to a skill shortage within their team.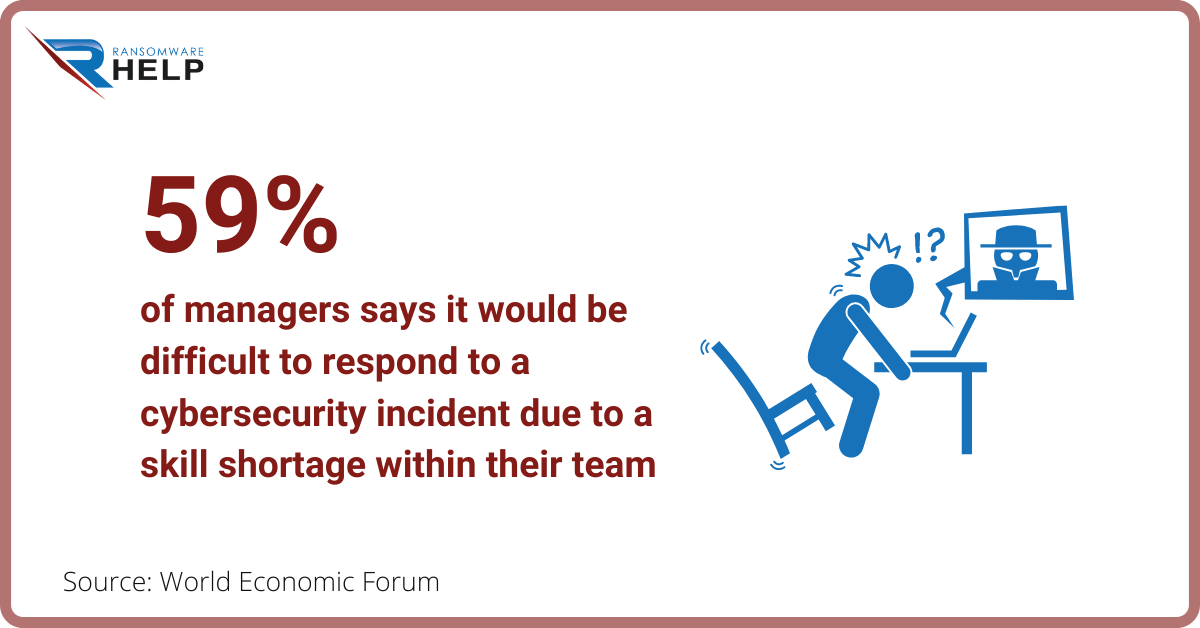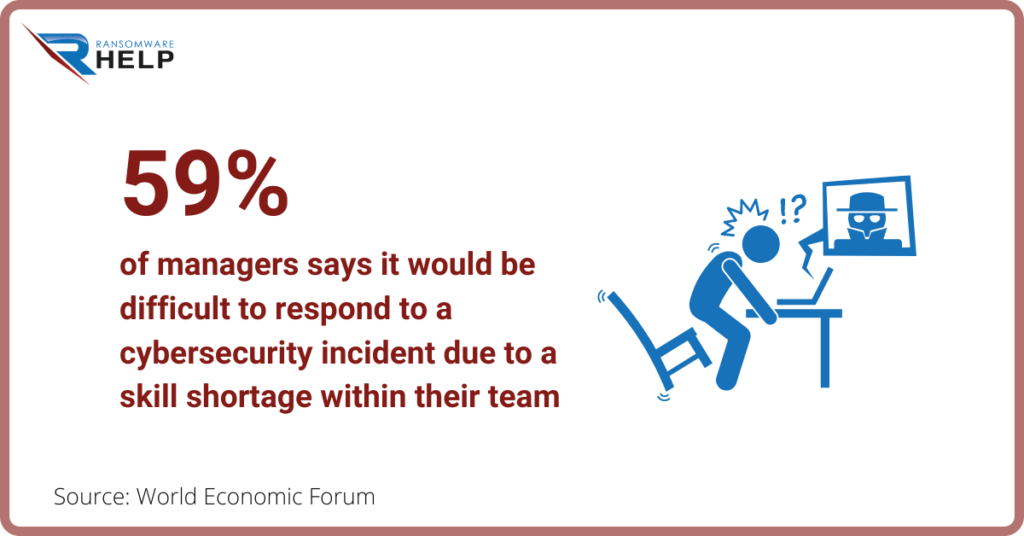 In the event of a ransomware attack, however, the data recovery must proceed according to four central moments:
Preparation: the preliminary plan that we have already described consists of the first step of data recovery;
Observation: Monitors networks, systems, and connected devices to identify potential threats;
Resolution: Collect informations about the ransomware that attacked you so that you can communicate with the experts;
Evaluation: estimate the damage and evaluate the effectiveness of your responses to understand what to change in the future.
Remember that the effectiveness of ransomware data recovery depends a lot on the professionals you choose to have by your side.
HelpRansomware offers the best ransomware removal and decryption services: delete any ransomware, decrypt your archives and recover all your data.
Create and protect your backups
Any specialist will never tire of saying it: a correct backup strategy protects you from most of the risks associated with an attack.
Making regular backups means that you have an exact copy of your files, and so even if you are a victim of ransomware, you shouldn't worry about paying the ransom.
According to the definition of Cambridge dictionary, the term backup means:
"A copy of information held on a computer that is stored separately from the computer."
The security level of this procedure depends on the number of barriers separating the production systems and the backup systems.
Here are some pointers to follow for adequate backups:
Create multiple copies of your data;
Store online and offline backups;
Save the backup on a server other than the one in the data center you intend to protect;
Avoid using a Windows server to store files: this operating system is more vulnerable to attack, and it can be challenging to remove ransomware from Windows;
Make backups on a regular and frequent basis.
By following these guidelines, you will have a better chance of preventing your data from being compromised.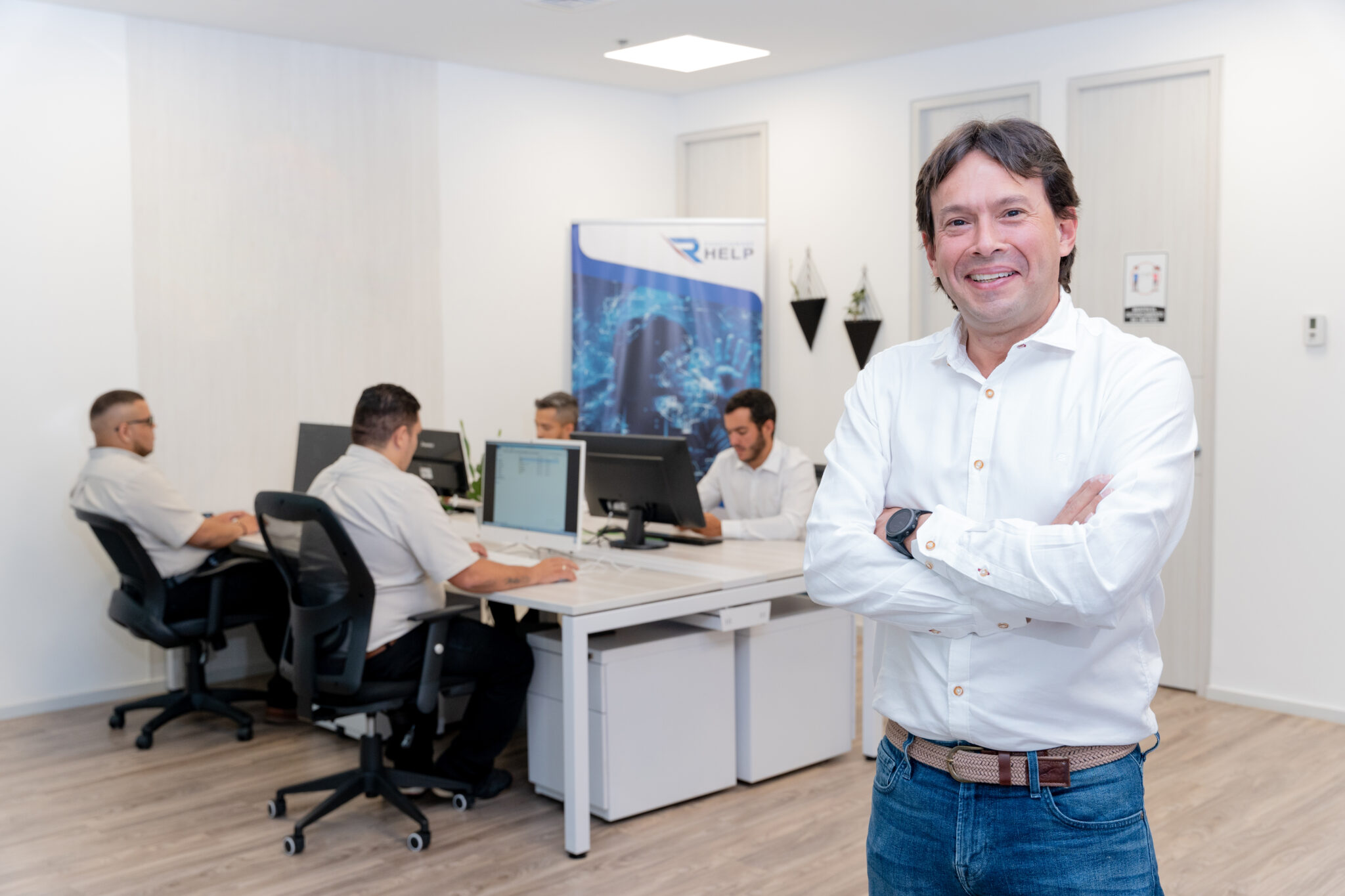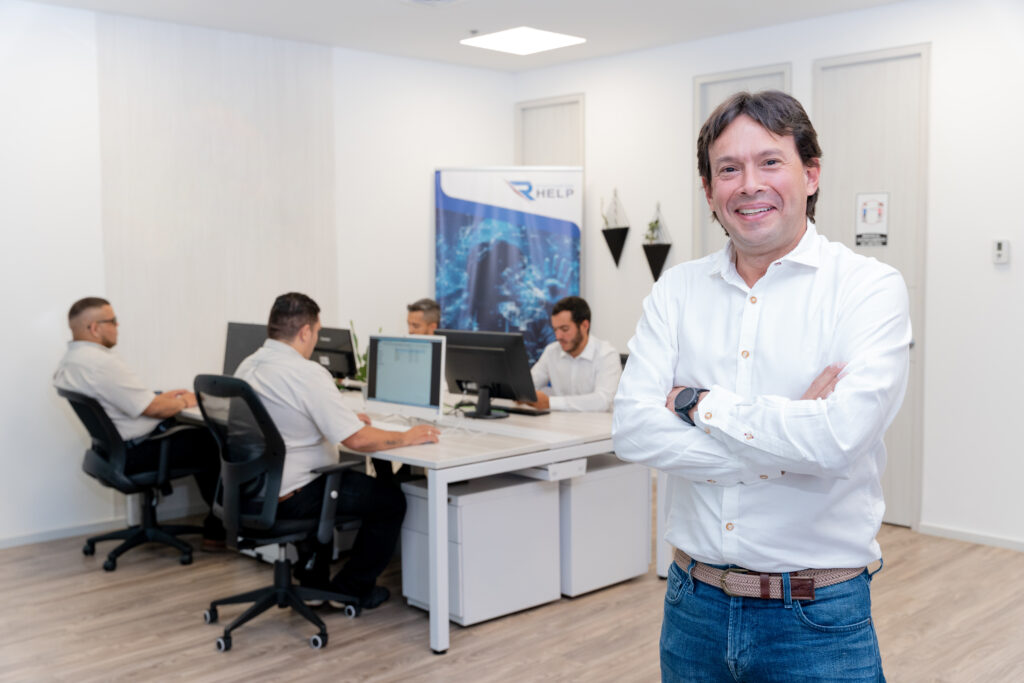 Expert Ransomware Removal
Our certified professionals have over 25 years of experience in ransomware removal, data recovery, and computer security.
Save the data offline
Offline data storage is another fundamental strategy in the data recovery process.
If your system is attacked and the infection spreads online, having an offline backup will allow you to restore files once the attack is stopped.
The advantage of this model is that the data remains accessible and safe even without internet access.
What to do if a ransomware attack hits your business?
The preventive measures did not work, and the damage is now done, but you have to do everything possible to make it smaller.
If your business has suffered from a ransomware attack, it's time to put your data recovery in place:
Contain the threat: this means putting all systems offline so as not to spread the danger;
Do not communicate with criminals: cut communications with hackers and do not pay the ransom;
Identify, among the types of ransomware, which one hit you: take a screenshot of the ransom note and grab a copy of the encrypted data;
Contact experts such as HelpRansomware: a team of specialists determines the extent of the damage, which environments are involved, which data is encrypted;
Report the crime to the authorities.
Don't mistake trying to restore encrypted files on your own, as you could do further damage.
Furthermore, at least 24 hours after the attack, try to gather all the information about the violation to identify which elements of your recovery plan have worked.
Why does the FBI suggest not paying the ransom?
The answer is straightforward: the FBI suggests not paying the ransom because you have no guarantee that you will be provided with the tools to decrypt your files once paid.
As the analysis conducted by IBM shows, the losses caused by a breach are significantly reduced with a zero-trust approach.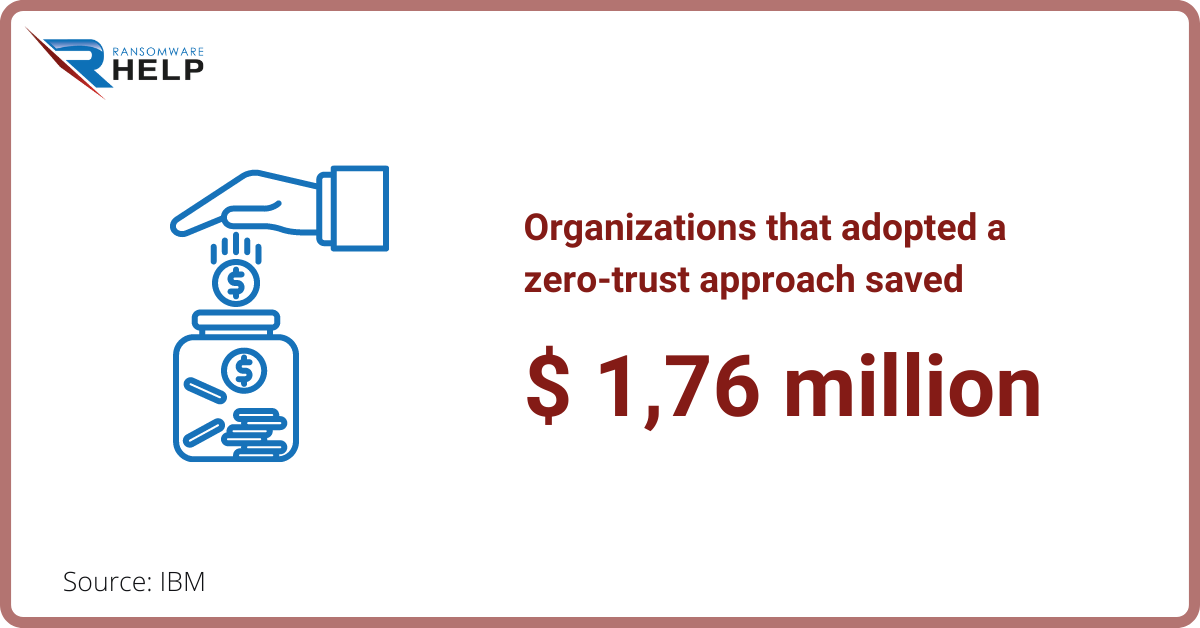 Compared to organizations without zero trust, organizations that adopted a zero-trust approach saved $ 1.76 million.
Furthermore, as specified in the notice disclosed by the US Treasury Department:
"Companies that facilitate ransomware payments, not only encourage future ransomware payment demands but also may risk violating OFAC regulations."
How to decrypt infected Ransomware files?
To decrypt ransomware files, you need special softwares.
There are many ransomware decryption tools; each ransomware has its own.
This leads to two main problems:
The more complex the encryption, the more expensive the decryption software will be;
To use decryption softwares, you need to have a set of non-basic computer skills.
For this reason, DIY tools are not always successful.
Furthermore, these tools present an additional problem: some ransomware exploit bugs in execution programs such as Adobe Flash or Java.
You could be responsible for downloading malware onto your PC yourself by doing so.
On the other hand, you must consider that decrypting a file does not mean recovering it.
Files attacked by ransomware can be damaged or corrupted even after decryption.
Therefore, the advice is to turn to specialized companies and avoid the do-it-yourself route.
HelpRansomware has over twenty years of experience in data recovery, digital forensics, encryption, and cyber security.
Conclusions
Thanks to this guide, we have explained everything you need to know about ransomware data recovery:
Different levels of encryption can cover files affected by the malware;
In 73% of ransomware attacks, cybercriminals managed to encrypt data;
The cost of an IT data breach for an organization is an average of $ 3.6 million per incident;
Prevention is the best weapon against ransomware;
81% of business executives believe that the digital transformation of the company is the main driver for improving IT resilience;
The zero-trust approach allows companies to save money in resolving ransomware attacks.
What needs to be clear is that the do-it-yourself ransomware data recovery software solutions are to be discarded.
Also, exclude paying cybercriminals: you never have to pay the ransom!
On the other hand, the best option is to contact specialists such as HelpRansomware, the world's number 1 ransomware removal company.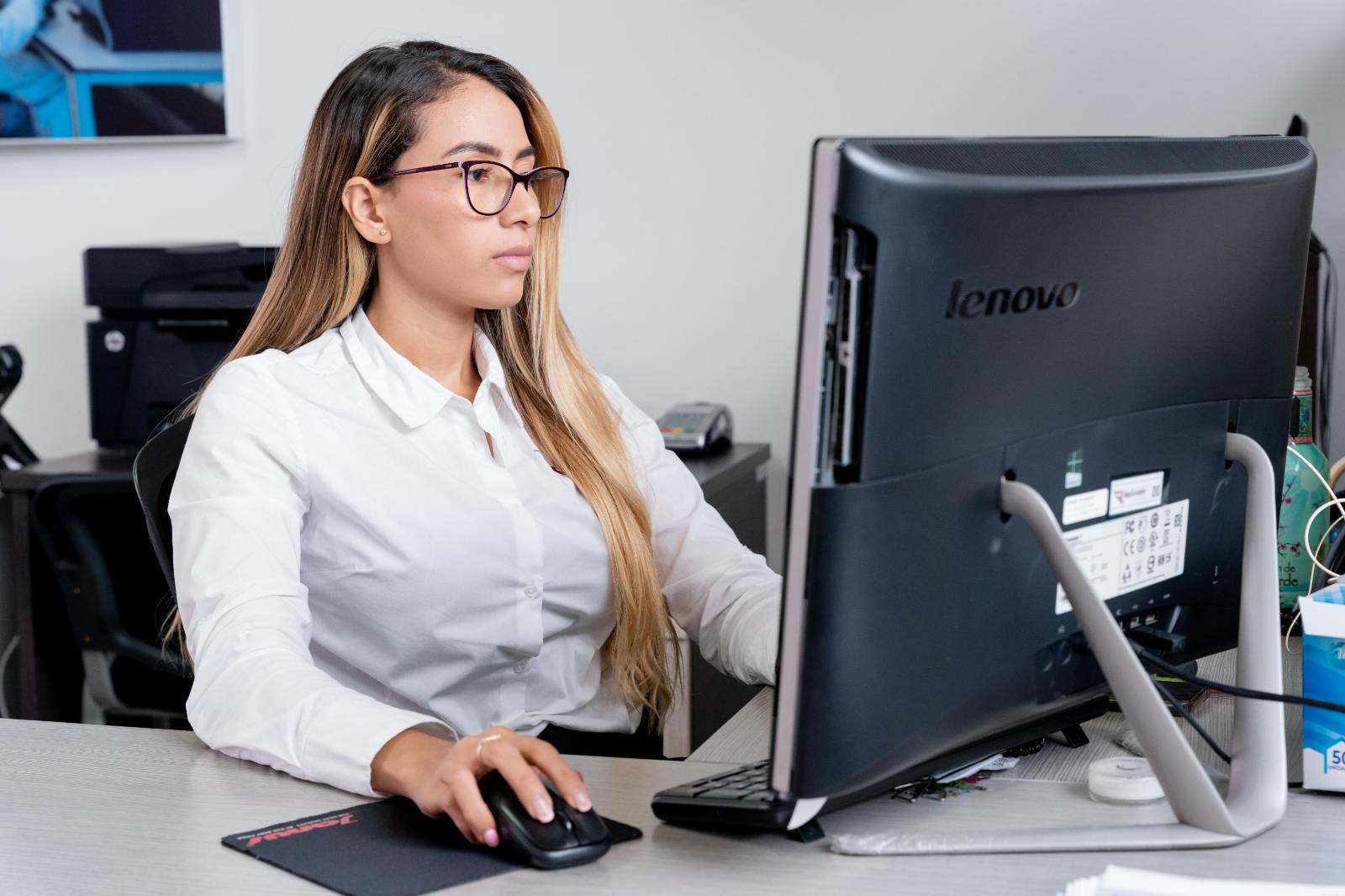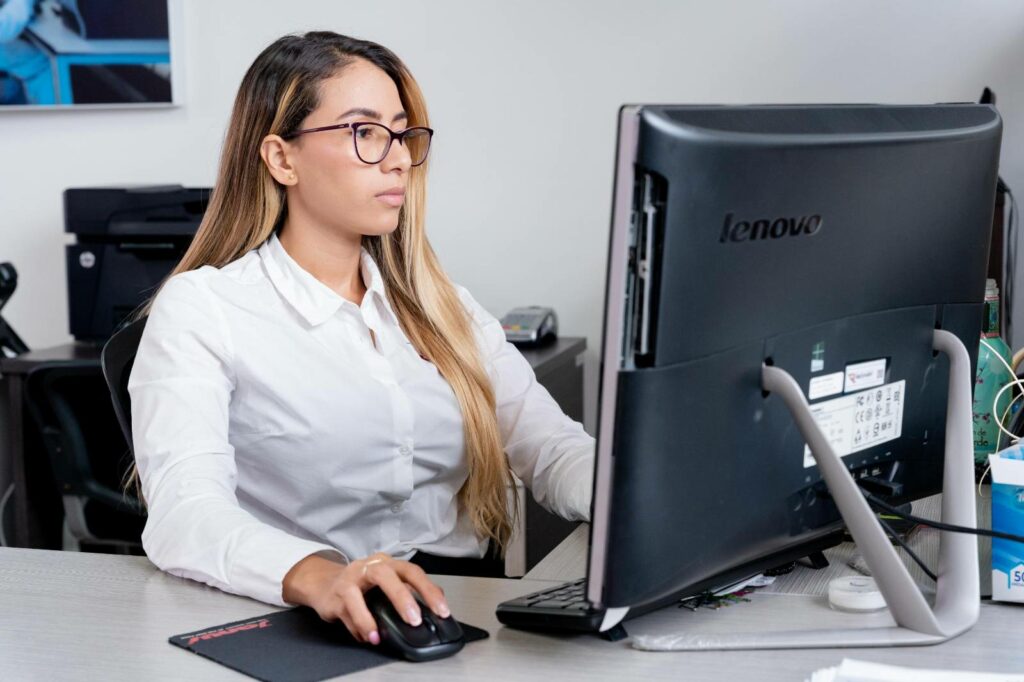 Expert Ransomware Removal
Our certified professionals have over 25 years of experience in ransomware removal, data recovery, and computer security.