Find out what Checkmate ransomware is, how to remove it, open .Checkmate files and stop this latest ransomware.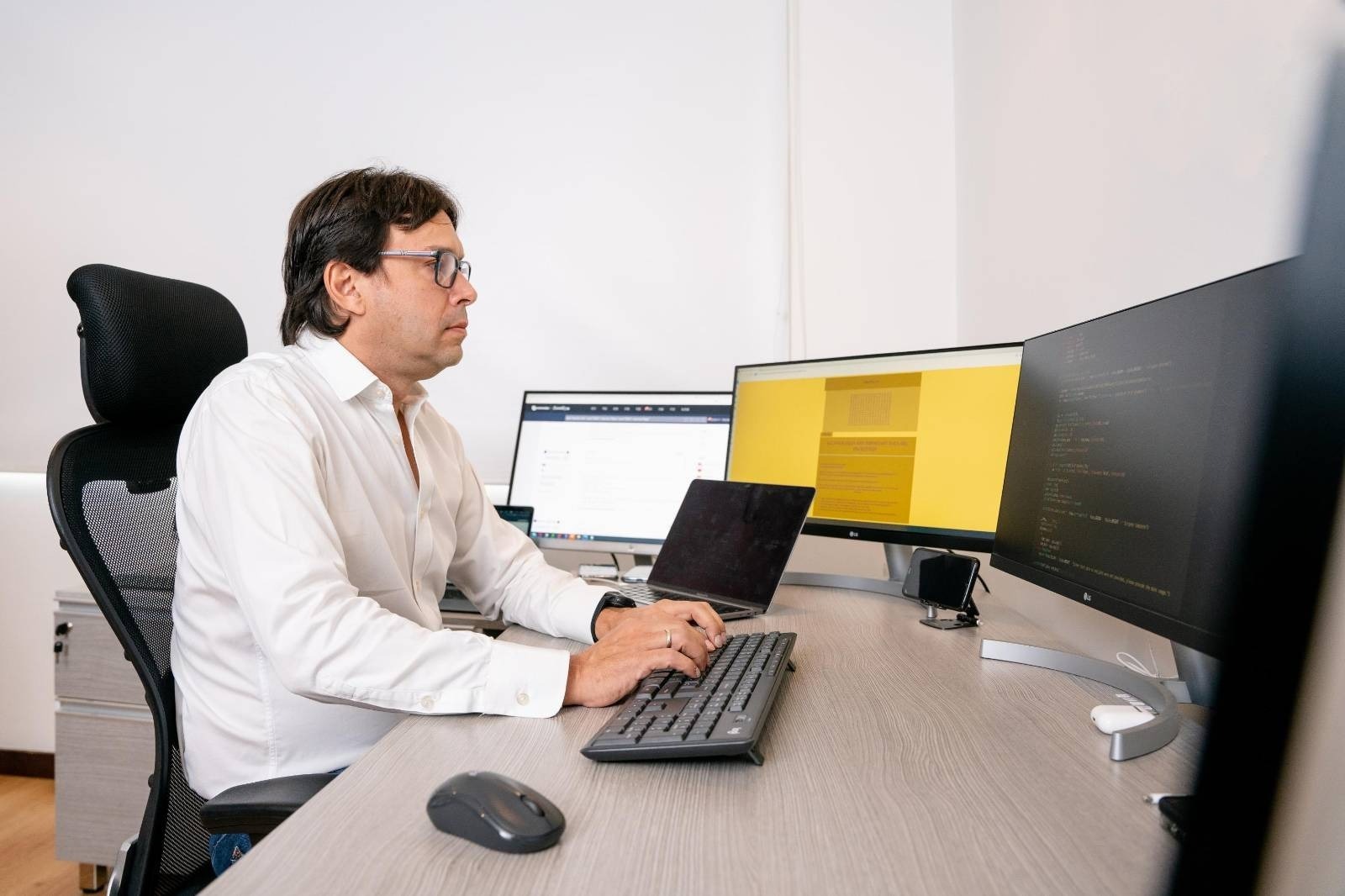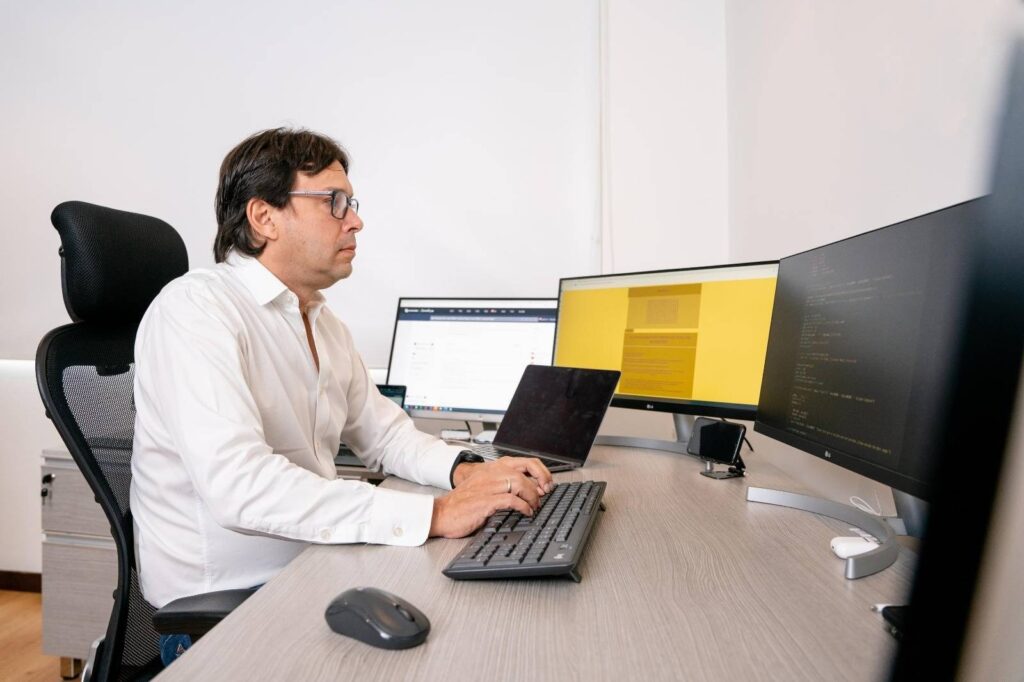 Do you need help to recover your data?
We remove ransomware and recover your files
What is Checkmate ransomware?
Checkmate is ransomware that encrypts data and demands a ransom to open encrypted files.
This new ransomware first appeared in July 2022.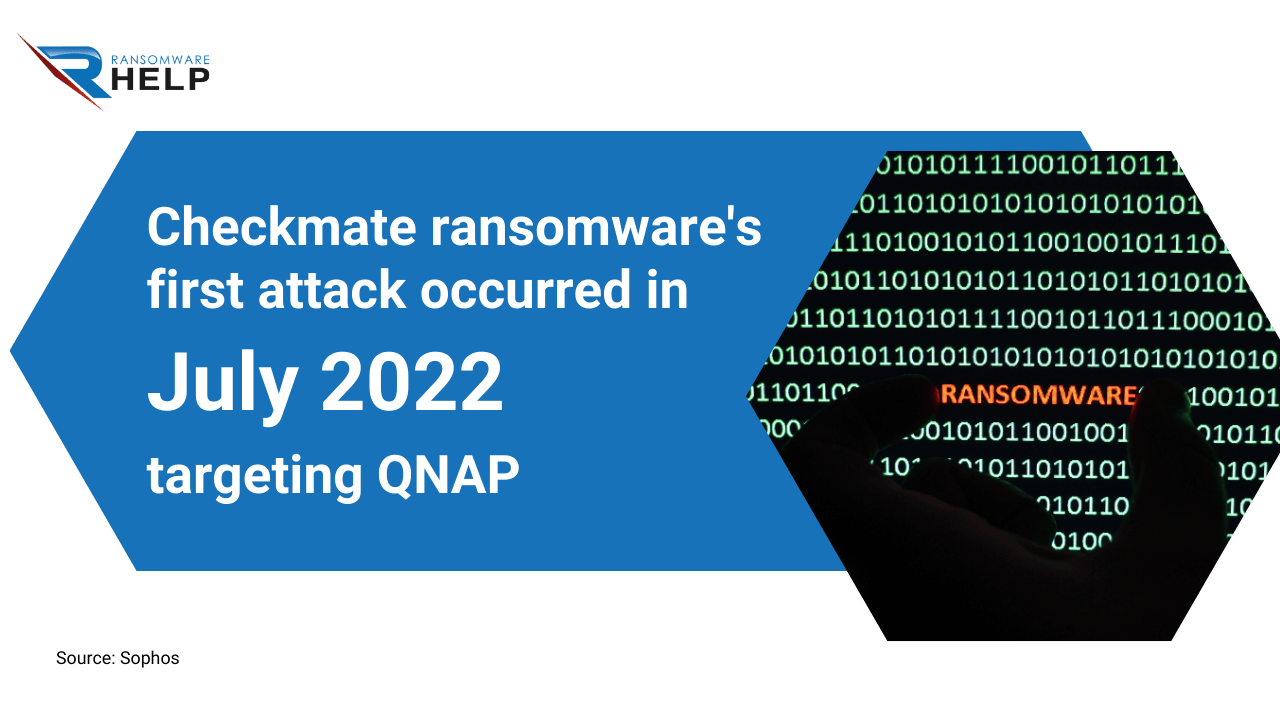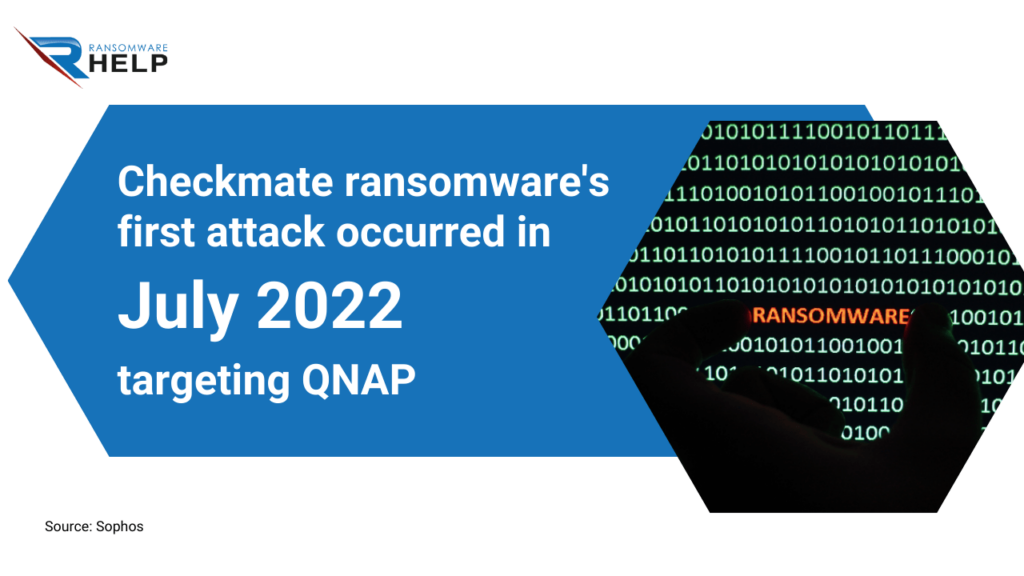 Generally, it is spread via SMB (Service Message Block) services.
Checkmate ransomware overview
Although Checkmate ransomware is new, we can already provide an overview based on the information supplied by the attack to QNAP, a provider of quality network devices:
'A new ransomware known as Checkmate has recently been brought to our attention. Once the attacker successfully logs in to a device, they encrypt data in shared folders and leave a ransom note.'


Ransomware targets NAS devices by bypassing weak passwords and misconfigured networks.
When the user logs in, the malware encrypts data and modifies the extensions from, for example, '1.docx' to '1.docx.checkmate'.
After that, a ransom note appears with the file name: '!CHECKMATE_DECRYPTION_README'.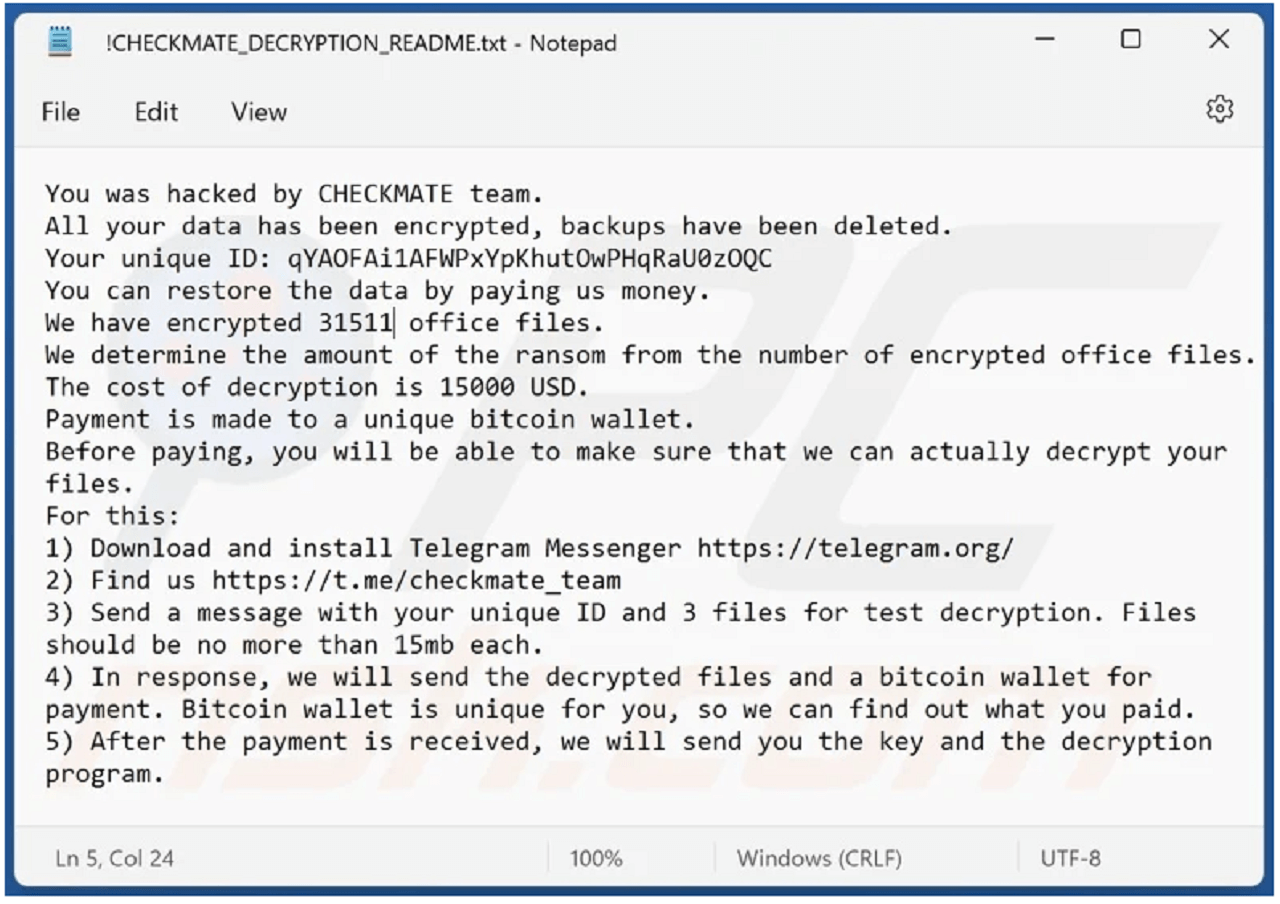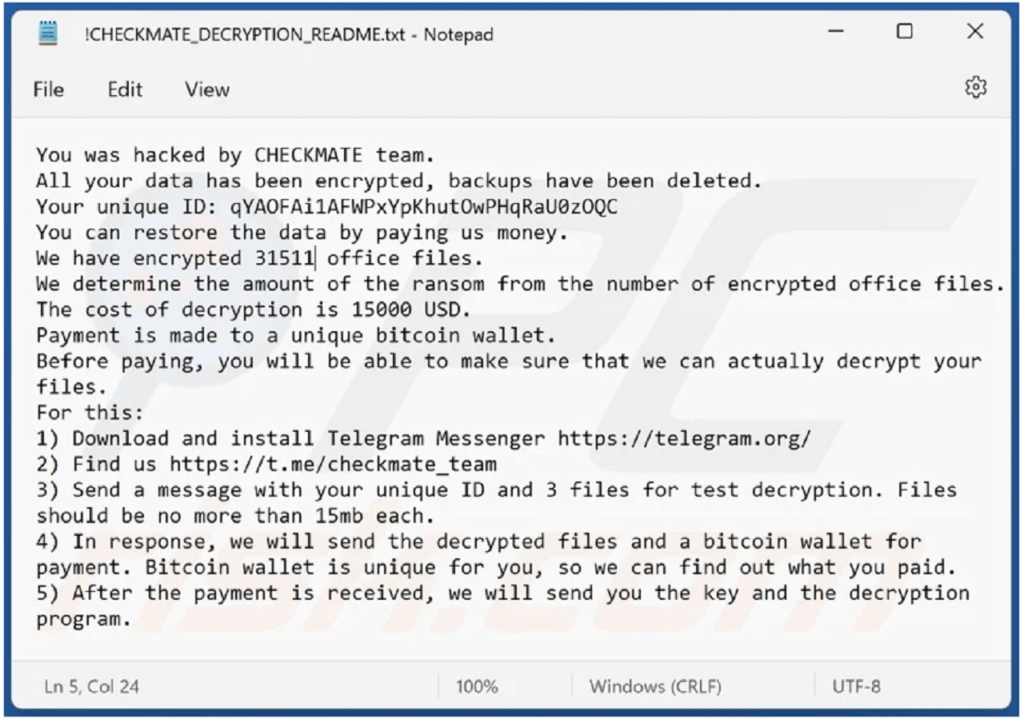 Is Checkmate a virus?
Checkmate is not a virus but ransomware that encrypts files and demands payment to recover the data.
But, in most cases, the hackers do not return the money and demand more, even if you pay the requested amount.
The solution to avoid blackmail and restore encrypted files is to contact a specialized company.
It is the case with HelpRansomware, a leading company in cybersecurity, ransomware removal, and decryption.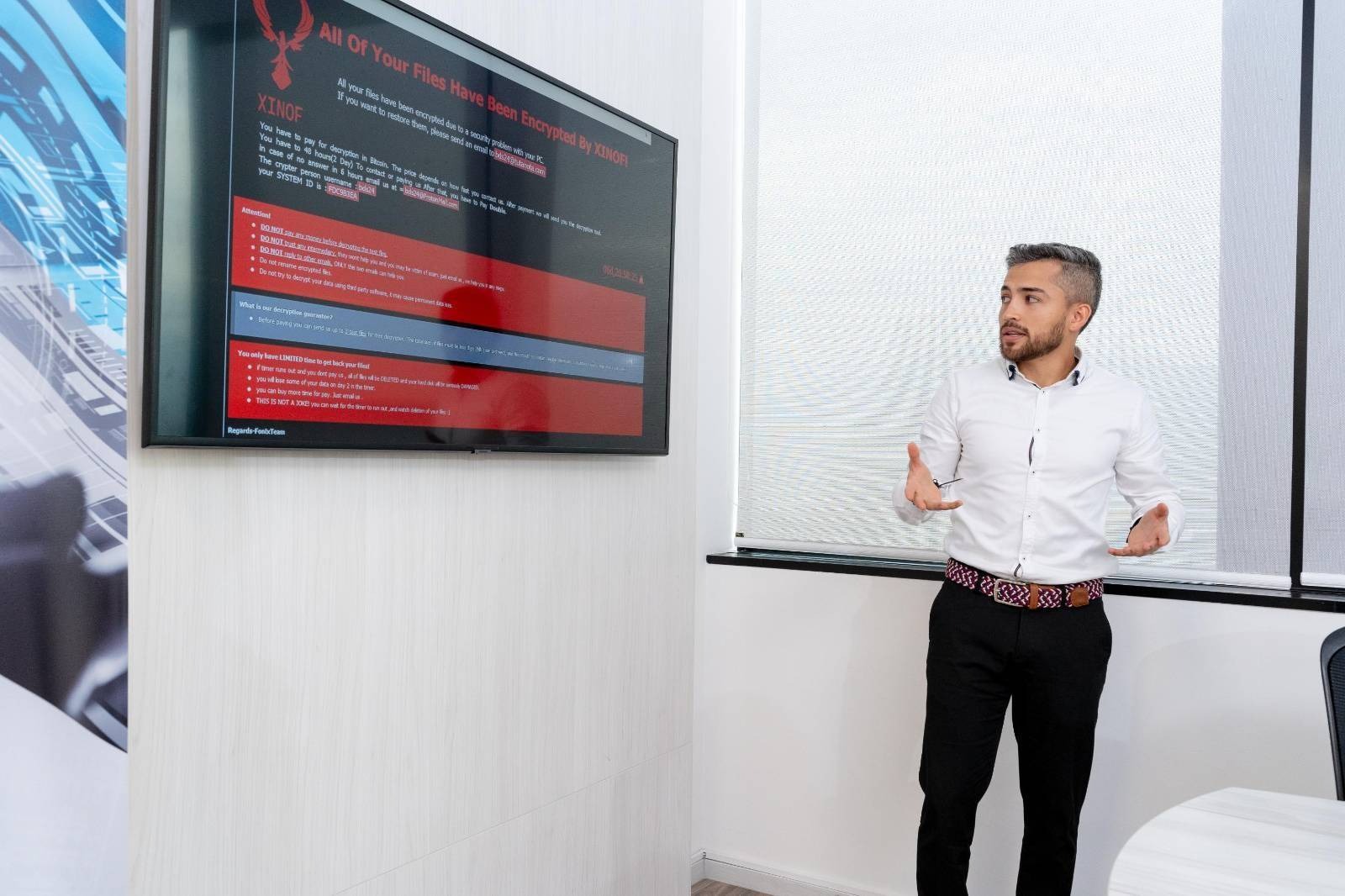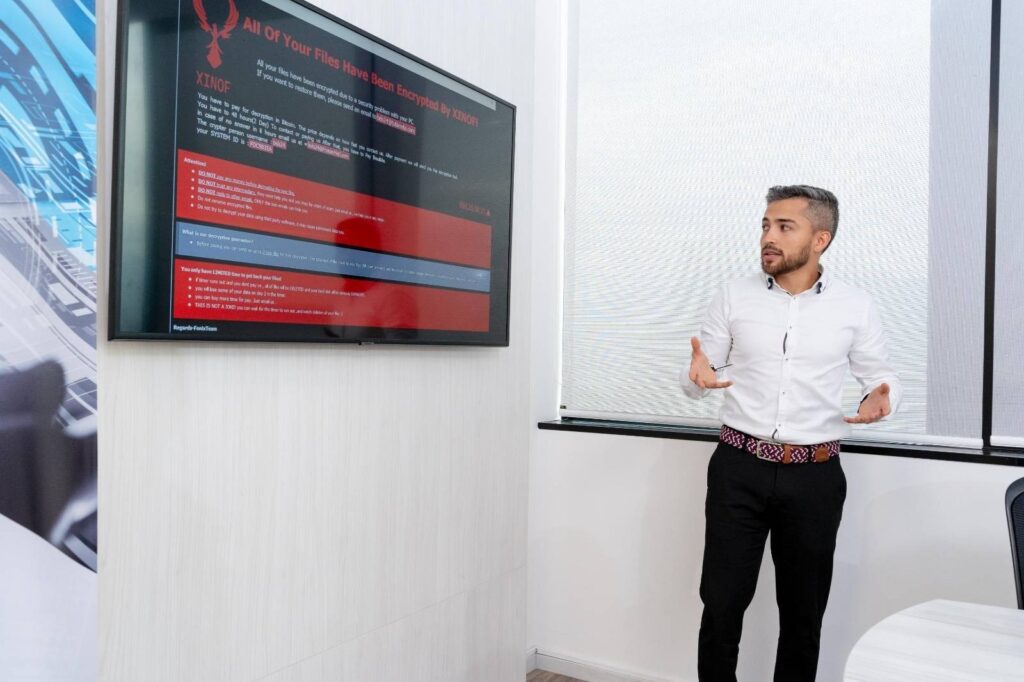 Do you want to remove ransomware quickly and safely?
HelpRansomware has helped thousands of businesses and administrations recover from a ransomware attack
How to stop Checkmate ransomware attacks?
QNAP, a victim of Checkmate ransomware, recommends following these guidelines:
Prevent access to the SMB service from the Internet;
Disable SMB 1;
Update QNAP OS to the latest version;
Check all NAS accounts and make sure you use sufficiently secure passwords;
Backup all data.
In addition to these advices, HelpRansomware recommends taking some precautions to protect yourself from Checkmate ransomware:
Use antivirus software and keep it updated;
Back up to external disk or cloud;
Activate two-factor authentication;
Use secure and different passwords for each account;
Avoid fraudulent websites;
Pay attention to emails and links you receive.
HelpRansomware, a specialist in ransomware removal and decryption, offers an IT security consultancy service to prevent ransomware attacks.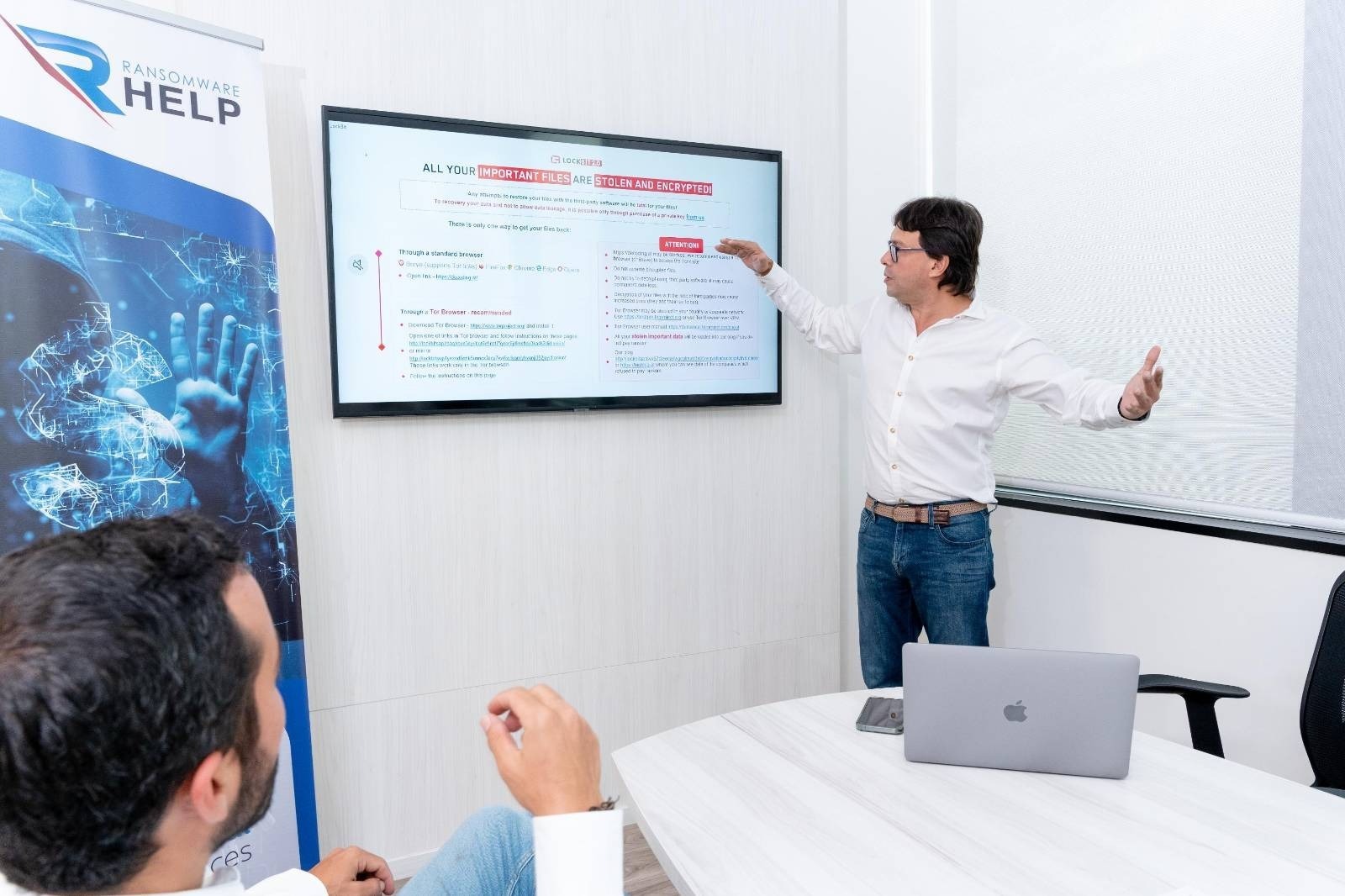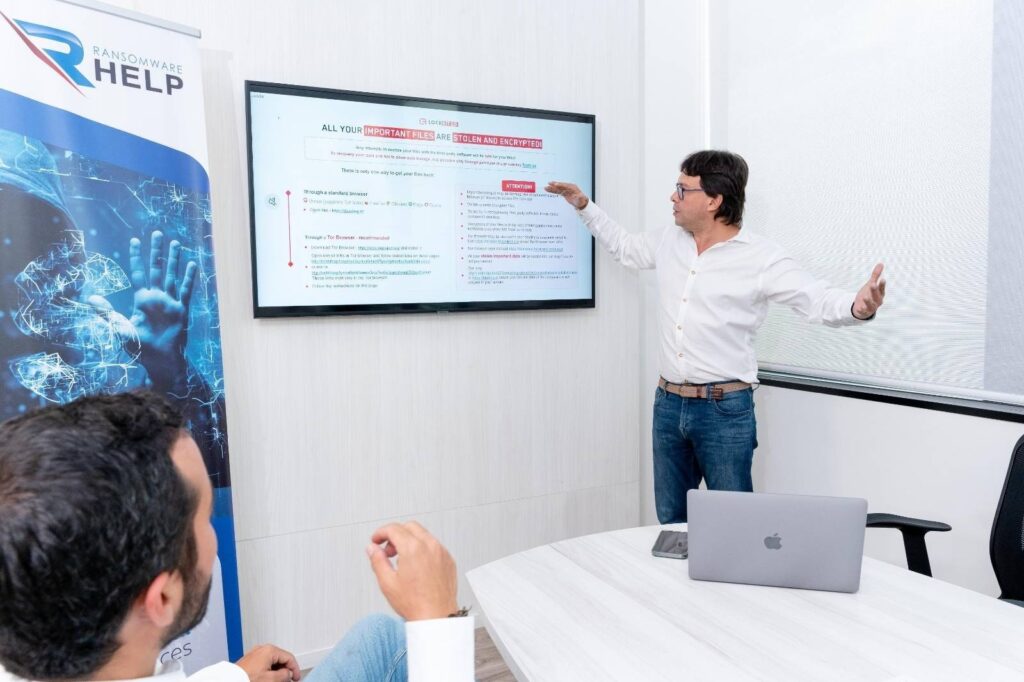 Do you need help now?
Speak to a ransomware expert today
How to remove Checkmate ransomware?
You must remove the ransomware from your device to prevent other files from being encrypted.
Several anti-ransomware programs allow you to scan your computer for malware.
There are different software such as:
Malwarebytes;
Kaspersky;
Bitdefender BOX;
Norton 360.
They protect your device, scan the computer and remove any malware.
Where can I find free tools to decrypt Checkmate ransomware?
If you choose to use ransomware decryption tools, it is essential to download them from an official site.
Some web pages offer free tools, but there is a risk that malware will infect your computer when you download it.
You must also download the installed antivirus from an official site.
Dubious sources, unofficial or free sites, can cause problems and deliver ransomware.
Recovery of Checkmate ransomware encrypted files
Ransomware removal can be done using software, while data recovery is more complicated.
Checkmate ransomware victims have three options:
Give in to the blackmail of cyber criminals;
Contact a specialized company;
Restore files using a backup.
There is no guarantee, however, that users who pay the hackers will be able to recover their data.
The 2022 report by Veeam indicates that 29% of organizations that paid the ransom failed to recover encrypted files.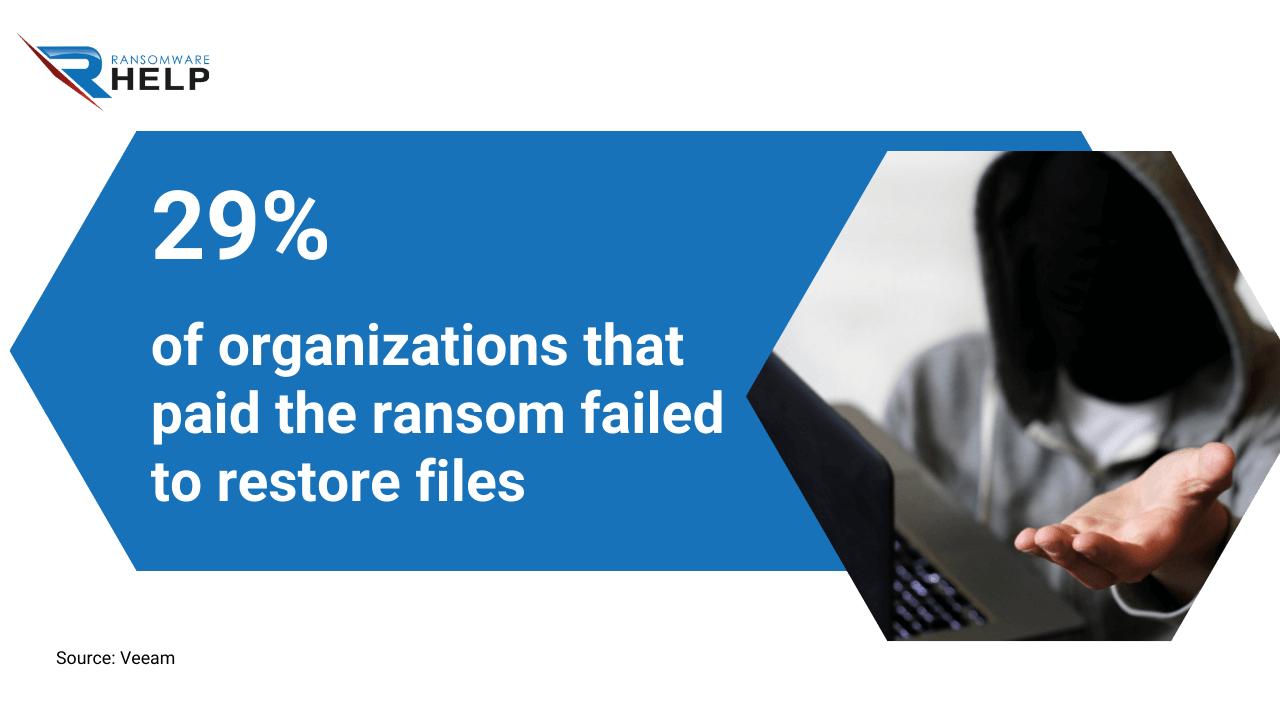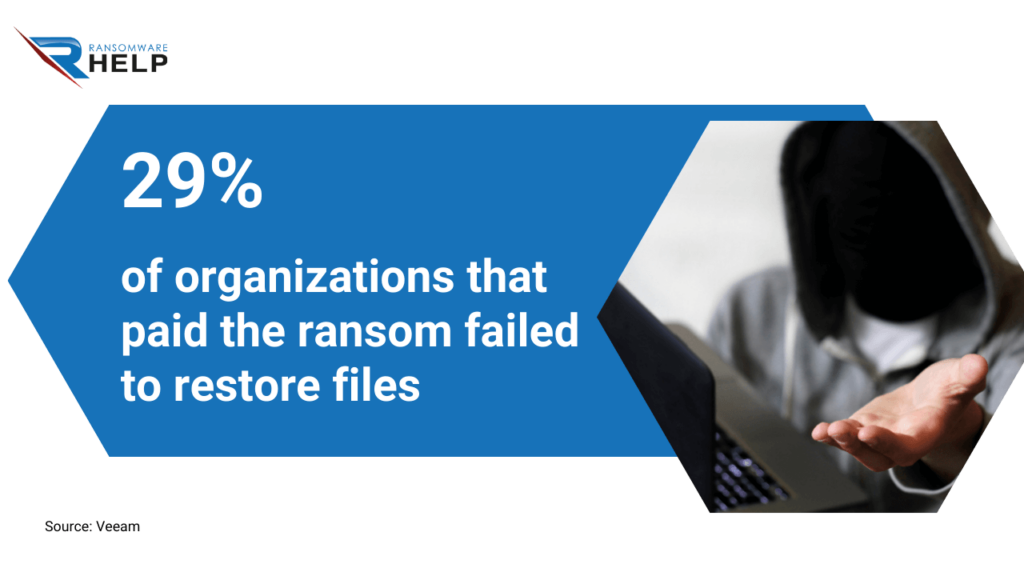 It is a double extortion attack: as soon as cybercriminals receive the first payment, they demand more money from the victim.
For attackers, receiving the first ransom proves the company's vulnerability and represents an opportunity.
On the other hand, specialized companies build the trust required to deal with threats such as ransomware attack.
HelpRansomware has over 25 years of experience in data recovery, forensics, decryption, and cyber security.
Their team is constantly developing new technologies and solutions to thwart attacks, decrypt ransomware files, and ensure their recovery quickly.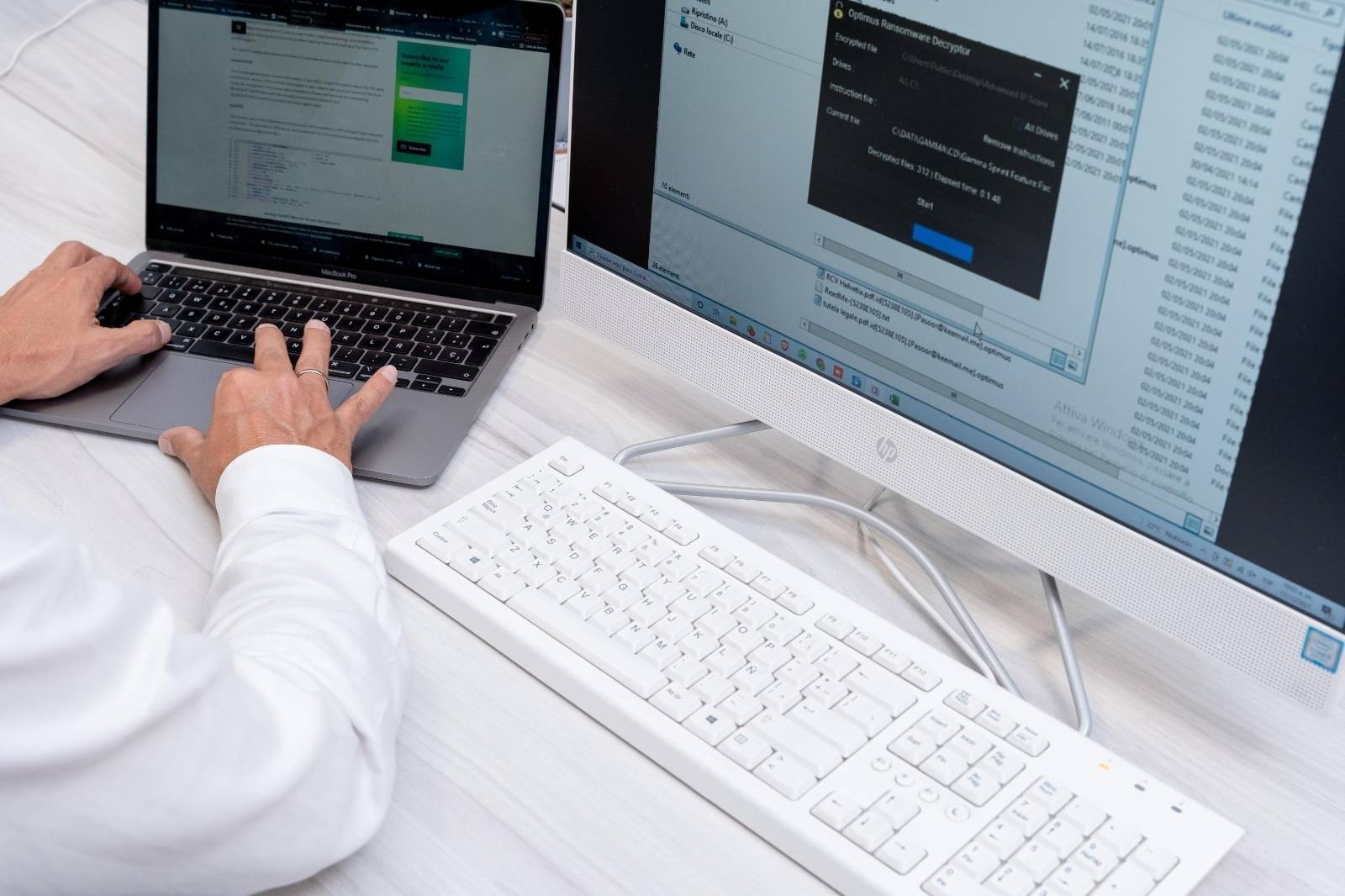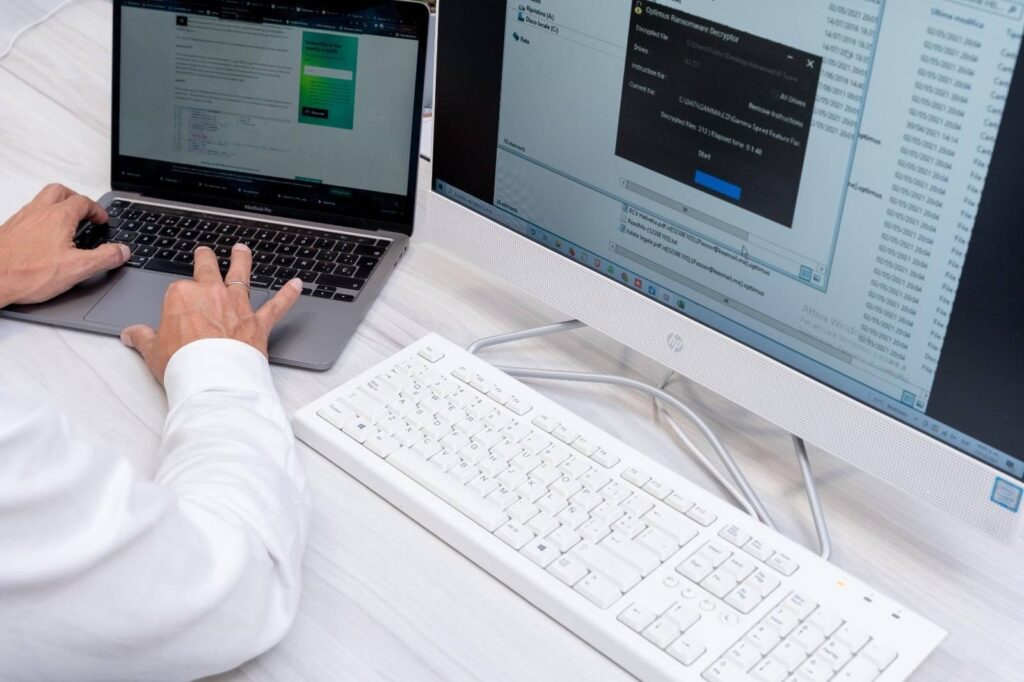 Contact a specialist
Our ransomware experts are available 24/7 around the world
The company is part of the ReputationUP group, a multinational specializing in online reputation management.
How can I open .Checkmate files?
Files with .Checkmate extensions are only usable if decrypted.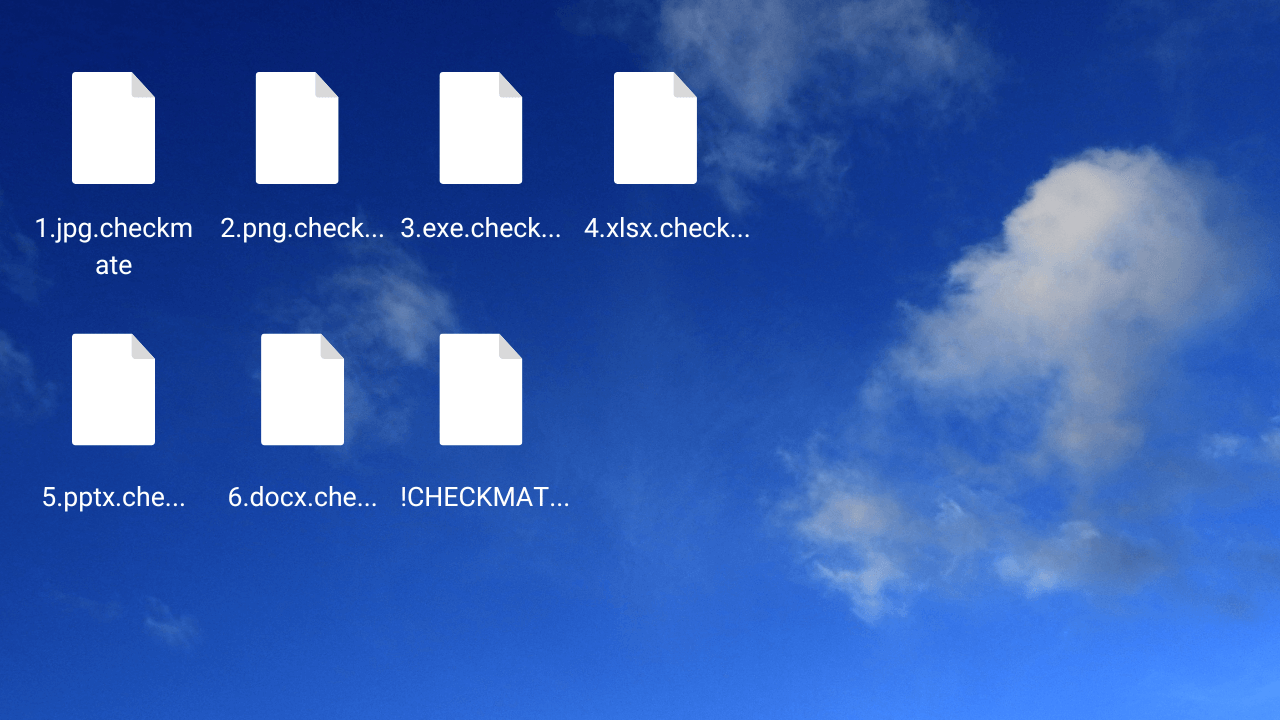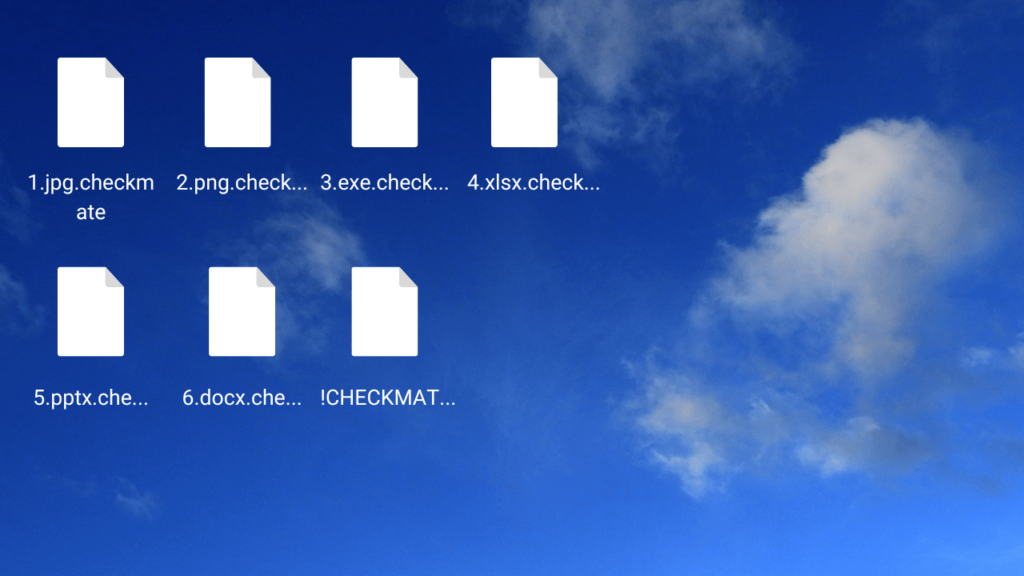 The best option to unlock them is to contact a company specializing in ransomware decryption.
HelpRansomware guarantees the removal of ransomware and the recovery of all encrypted files.
The company has over 25 years of experience in cybersecurity and cryptography.
It is present worldwide, with 24/7 offices offering fast and effective ransomware removal services.
Conclusions
With this guide, we have revealed Checkmate ransomware, how to remove it, open files, and stop it.
You can draw the following conclusions from this article:
Checkmate ransomware was first spotted in 2022;
It spreads through SMB services;
QNAP was the first company to report this ransomware;
Files are encrypted with an extension change, for example, from '1.docx' to '1.docx.checkmate';
Download decryption tools from official websites.
HelpRansomware offers ransomware removal and decryption services.
Most importantly, victims can recover their files.
With over 25 years of experience, the company can remove ransomware and open files quickly, guiding the victim through the process.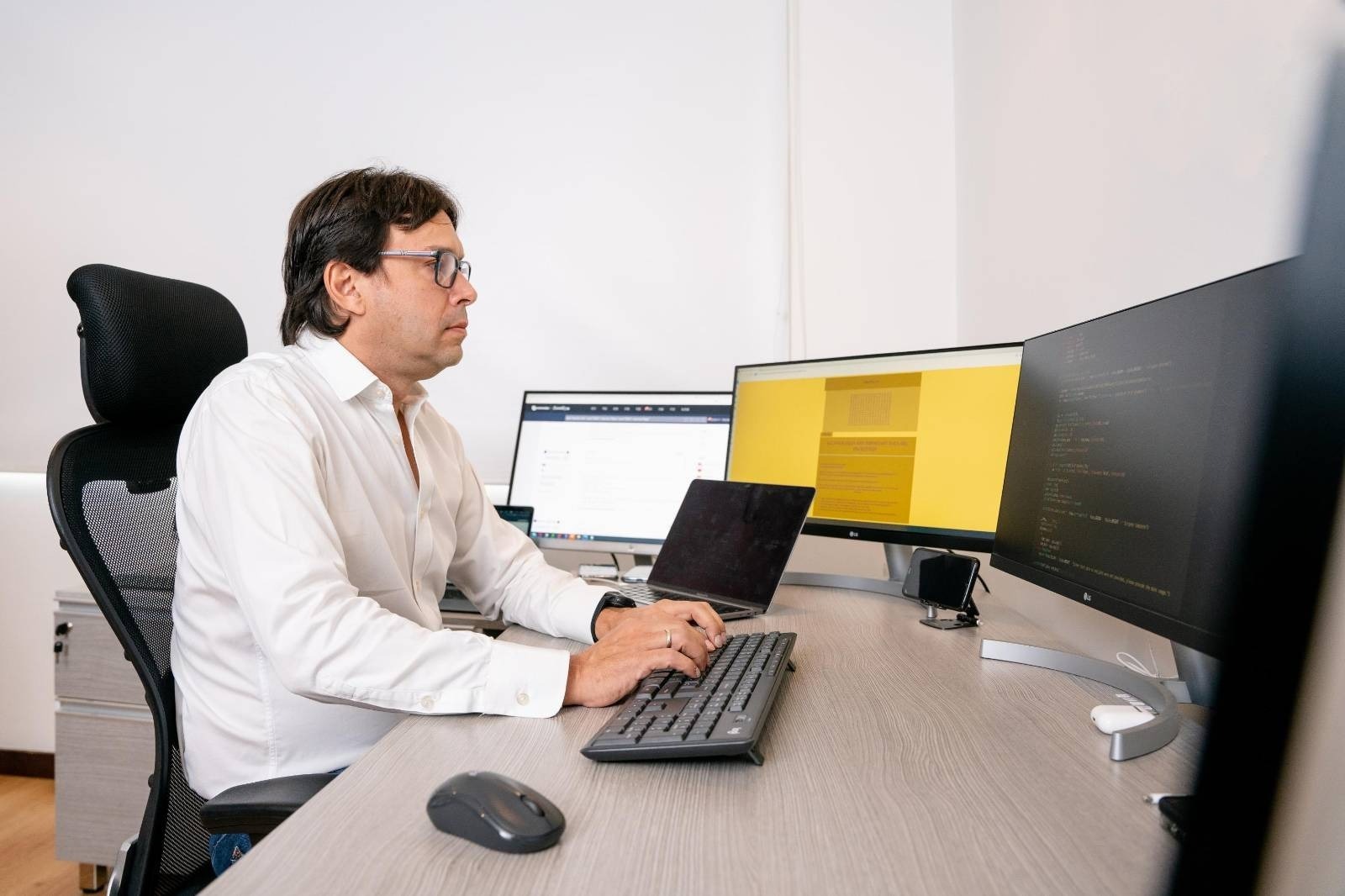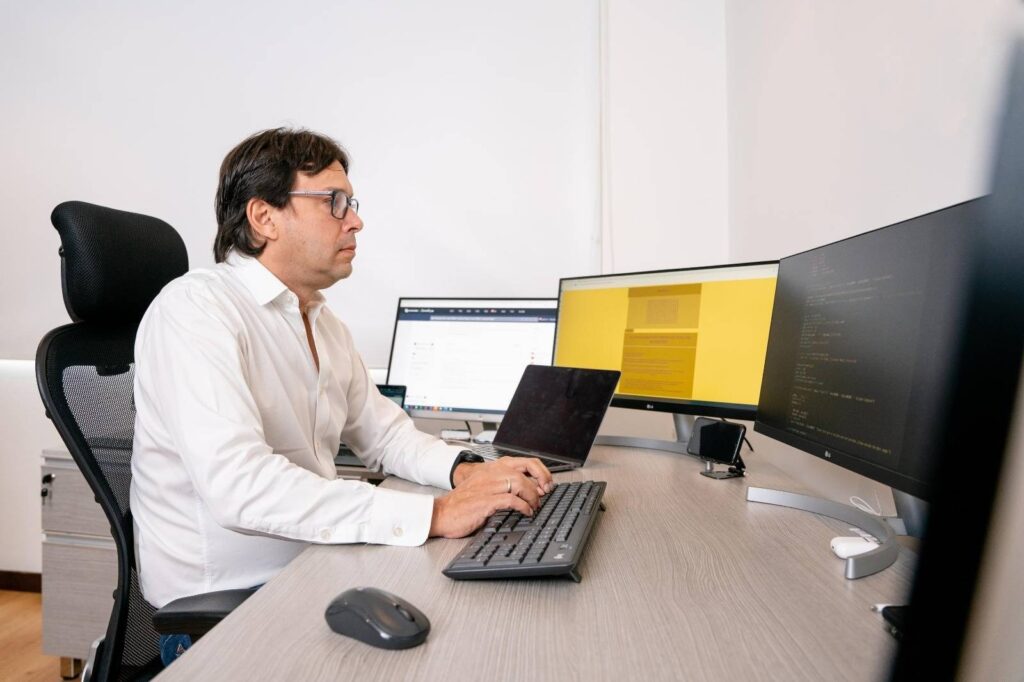 Do you need help to recover your data?
We remove ransomware and recover your files